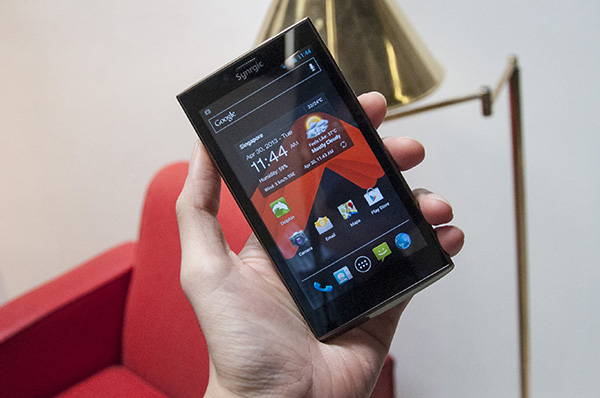 Folks looking for their next smartphone running stock Android may be surprised to find themselves looking no further than Singapore, where local firm Synrgic on Tuesday unveiled the Uno, their new mid-range smartphone.
Sporting a sleek, umber-coloured exterior, the Uno — which means "one" in Spanish or Italian — is completely designed and developed in the Singapore. And instead of mass-producing the smartphone in China, as most brands are wont to do, the Uno will be manufactured in South Korea "to get the best quality", according to Synrgic CEO Cheo Suan Jin.
Although the hardware's design isn't particularly ground-breaking, the Uno certainly isn't lacking in the looks department with its slim 9.5mm profile and a lightweight 133g heft. The dark umber plastic shell is also very attractive and lends it a more unique look than other smartphones.
But peek beneath the Uno's shell and you may find yourself disappointed at its tech specs. Instead of taking on the latest Android powerhouses from the likes of HTC, Samsung and Sony, Synrgic is aiming squarely at the mid-range market with its dual-core processor and 1GB of RAM.
However, that's not to say the Uno is slow or sluggish. Android performs just fine on dual-core chips and apps have no trouble running smoothly on the Uno's 4.7-inch (1,280 x 720) display, which has great colour and viewing angles.
Other goodies include NFC, removable battery, and a micro SD card slot.
But the most interesting feature of the Uno is surely its skin, or lack thereof. Synrgic has decided not to mess around with Android and ship the phone with a pure, unadulterated Ice Cream Sandwich experience, with Jelly Bean coming by the end of next quarter.
Synrgic is also providing a one-for-one exchange of any faulty units within one year of purchase, a generous warranty programme that buyers will surely appreciate.
All in all, the Uno does sound like a decent mid-range smartphone that's worth buying, except for one problem. It's currently only available online for S$400.
Although the company says it's in talks with telcos, there's no word on when we'll be able to get it with a mobile phone subscription and telco subsidy.
If this isn't enough to stop you from getting one, there's an additional silver lining awaiting: Synrgic has promised free delivery for buyers in Singapore.