After less than three years of existence since its launch in March 2008, Singapore's local search engine Rednano.sg passed away quietly last month in December 2010.
A joint venture between local newspaper giant Singapore Press Holdings Limited (SPH) and Norwegian media group Schibsted ASA (Schibsted), Rednano.sg was a Singapore-centric search engine whose aim was to provide fast and accurate local search results.
A visit to the site shows that it has simply been folded into SPH's existing online classified business, ST701.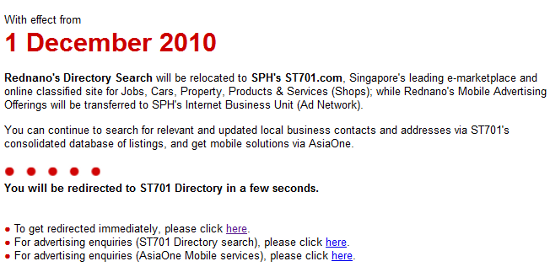 Rednano's holding statement as of early January 2011
Up against giant Google from the start
Since it's inception, Rednano has been compared with Google, and often unfavourably.
From being called a superfluous search engine by well-known celebrity blogger Mr Miyagi to undispelled questions about how they compete with Google, Rednano had to promise better results than Google locally to carve a profitable niche for itself.
Unfortunately, tests from end users, like Thinking Nectar's detailed ones here and here, showed that their local search results were often not as good as Google.
Rednano was also slammed for being a souless mercenary product by some in the bloggosphere. For example, blogger Nocturne ranted about how Rednano's ST Archive results links didn't link to the content itself, but to a payment gateway asking for subscription. He likened this to Google mixing adwords with its search results, and not telling the user which is which. Nocturne also did a follow-up review post on the Rednano a year later in 2009, but the search engine results were still as bad.
It wasn't all bad though. Rednano won several awards for technology innovation, like for its mobile location-based directory search service.
As late as the middle of last year, Rednano was still trying to find a niche for itself, from mobile directory listings to augmented reality. Shortly thereafter, Rednano ex-CEO Paul Jenson retired in September 2010, and Rednano got deadpooled (aka died) in December 2010.
Rednano becomes ST701
Rednano the search engine has now merged with ST701, which is a broad portal site like Mocca (by Mediacorp) and inSing.com (by SingTel).
However, the market is rife with competition and it's no cakewalk for any company.
With function-specific localized Singapore portals blooming all over like SG CarMart (cars), Property Guru (housing), Hungry Go Where (food), Cozy Cot (beauty and fashion) and Beeconomic (coupons and deals), it's going to be a battle of the broad vs. the niche. The future will tell who will thrive.
I'll leave you with this excellent YouTube video of all the funny TV ads for Rednano during its heyday: