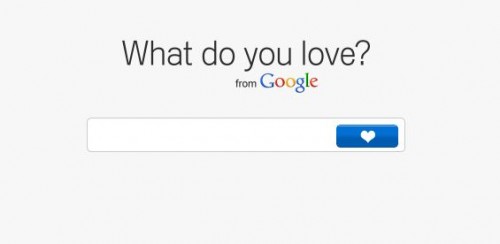 Google has secretly unveiled a new service called "What do you love?" (or, wdyl.com) to help you find out, well, what you love. Think of it as something like a search engine, but instead of searching the Web for "something", you actually search across various Google services for "something".
For example, searching for "shoes" gives you the option to translate shoes into 57 languages via Google Translate, find books about shoes via Google Books, watch videos of shoes via YouTube, read the latest news about shoes via Google News, and more.
In a word, it's brilliant. WDYL seamlessly integrates all the various services Google has on to one page, which lets users discover even more ways to "Google". With just one "WDYL", users who previously only know about bland old search now know all about Google's other services. WDYL even prompts users to download new software like Google Chrome to "Access shoes stuff on the Web, faster".
The interface is beautiful, sort of like a well-designed Tumblr magazine theme. A navigation map at the side lets you drag the page up and down without scrolling in the traditional sense, and you can share you're your WDYL search via Gmail or Google Buzz.
Now here's the million dollar question: what is it for?
Well, it could be part of a new larger marketing campaign. WDYL is nothing but self-promotional, getting users to take a look at other Google services which they might never have known existed.
And of course, this is still search, which is Google's core business. WDLY merely presents search in a more visually appealing manner; so again, this could tie in with some future marketing effort.
In fact, throw in a "Chrome Web Store" box in the search results and this could well be a Web app specially developed for Chrome OS users to help them quickly find what they want.
So readers, do you think this is part of a larger Google scheme to take over the world, or just an innocent new search function? Let us know in the comments!