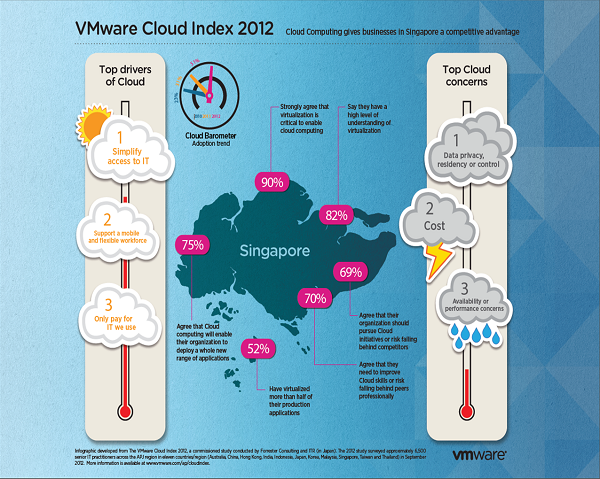 Singapore is a big believer in cloud computing initiatives, according to the latest 2012 VMware Cloud index.
According to the annual index, 84 percent of senior IT practitioners in Singapore are currently using or planning to use cloud computing initiatives at the workplace.
This is higher than the 75 percent average through Asia Pacific, and is one of the highest in the region, together with India and Australia.
It also shows a shift in the maturity of how private and public sector organizations view cloud in Singapore. 51 percent are currently using the cloud in 2012 compared to 31 percent in 2011 and 23 percent in 2010.
82 percent of Singapore respondents — the highest in any country in the region — believe they have a strong understanding of cloud computing, where the average is 75 percent.
This VMware Cloud Index is in its third year running, and is a commissioned study conducted across Asia Pacific by analyst firm Forrester through an online poll on behalf of VMware.
Close to 5,000 senior IT practitioners in the region were polled, with 145 practitioners in Singapore contributing to the results above.
Other interesting factoids that were mined from the study:
The top cloud concern in Singapore was on data privacy, residency and control, followed by costs of implementing cloud, and then performance and SLA (Service Level Agreement) issues.
82 percent of Singapore respondents expect cloud computing to help reduce IT costs, while 80 percent expect cloud to empower businesses by simplifying access to IT resources.
The maturing of cloud
Taken as a whole, the findings showcase a maturing of the cloud space in Singapore and the region.
At the media session two days ago when the findings were released, a mixed bunch of media, analysts, end users and VMware folks weighed in on why they thought Singapore had such a strong understanding of Cloud.
Alvin Kok, head of Data Centre and Cloud Computing at SingTel, believed that our government had a large part to play in driving cloud adoption. One example he quoted was Singapore's G-Cloud initiative.
"If you look at it, the cloud environment changed a lot recently, especially in the last year or so," he said, alluding to the cloud direction spearheaded by our Singapore government.
Personally, I totally agree. I think the Infocomm Development Authority (IDA) and the Economic Development Board (EDB) has done a great job of luring big MNCs to host their cloud-computing data centres in Singapore.
For example, in the past year Equinix, Savvis, and Google, just to name a few vednors, launched multi-million data centres in Singapore.
Singapore is definitely on track to becoming a major cloud player in the region if it keeps on this trajectory.
Forrester Vice President and research director Michael Barnes also talked about the major use cases for cloud.
According to him, cloud conversations have moved away from SaaS (Software-as-a-service) a few years ago to be more around an infrastructure play around the data centre.
Through all his conversations with CTOs from end-users, one thing that stands out as a major use-case is disaster recovery and business continuity (DR/BC).
Because end-user organizations are looking at DR/BC services to be offloaded to the cloud, it should be no surprise that data security and control are at the forefront of their cloud concerns as mentioned in the survey earlier.
A second important use case that Michael mentioned was increased utilization and cost reduction of IT management through data centre consolidation. Lastly, a third use case is giving businesses agility to requisition on-demand resources only when necessary.