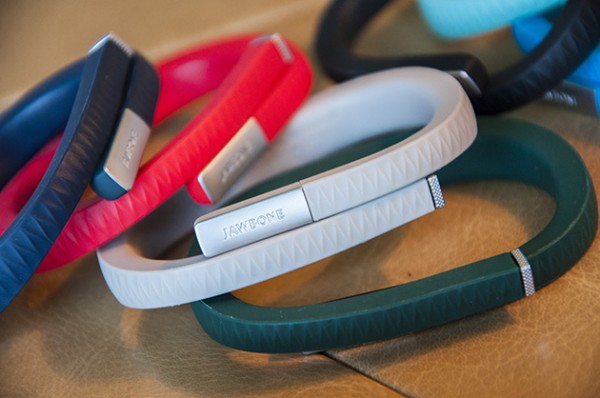 Smart watches were not the only wearable tech that drew eyes during the Consumer Electronics Show (CES) earlier this year. As chips and sensors continue to shrink, a new category of personal fitness tech is emerging in the form of wristband-style gadgets.
These devices are supposed to be worn around the clock so that your every activity can be tracked, even when you're sleeping. The idea behind it is simple: the more data about you can obtain about how you live, the better you'll be able to make decisions that directly affect your health, such as getting more sleep or eating the right food.
Jawbone was one of the pioneers in this space in 2011 with the original Up wristband. The company now claims that the second generation of the Up is much hardier than the first, and it even had to design its own stress tests as existing industry standards were not good enough.
The result is a much-improved product that addresses all the complaints of Jawbone's first attempt. We go hands-on to find out more about this tiny little device, available in Singapore from April 1 for S$189.90.
Design
At first glance, the Up looks like those of coloured rubber wristbands that were all the rage a few years ago, except that it's thicker and bulkier since there's a tiny computer, a battery, and a 3-axis accelerometer packed inside.
Despite that, wearing it isn't much of a hassle. Like any other bracelet, it feels a little out of place at first, but you soon get used to it.
The Up is shaped like a C with the points overlapping. As you slide your hand into the band, the two points are pushed apart to make way. The band flexes quite well, and my worries of it getting out of shape is soon put to rest. The fit is snug, and my M size sample unit didn't jiggle about. If you have smaller or bigger wrists, however, the S or L size may provide a better fit.
The hypoallergenic and medical-grade rubber encases the electronics snugly, and is splash-resistant so you don't have to take it off even in the shower. With a battery that is rated to last up to 10 days, Jawbone says you never have to take the Up off.
Jorgen Nordin, head of channel and partner development at Jawbone, said the company's design direction is geared first towards producing "functional jewelry" that people would want to wear as a pretty accessory even if it didn't serve any other purpose.
Indeed, the raised zigzag pattern that runs around the band is quite attractive. Together with the silvery finishes at both ends of the wristband, the device seems more like a stylish fashion accessory than a nerdy gizmo.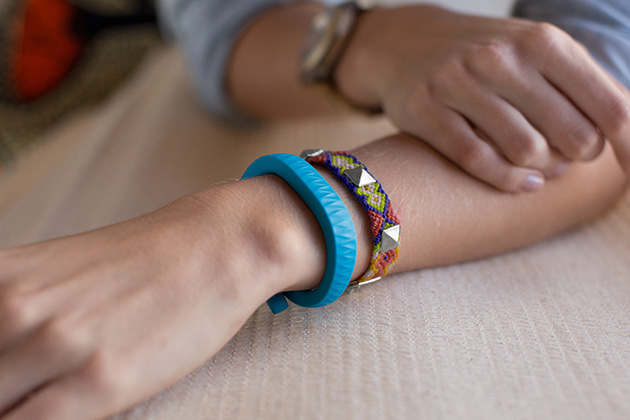 One end of the band can be popped off to reveal a standard 3.5mm headphone jack, but no, the Up does not double as an external speaker.  Instead, the headphone jack is used to transfer data from the Up to your iOS or Android device.
On the one hand, I can see the ingenuity in using the headphone jack. It takes up less space than a USB or micro USB port, and comes standard on all smartphones so you don't have to fiddle around with adapters.
However, the need to take off the Up and physically plug it into another device seems to go against the "wear it and forget it" philosophy. Bluetooth is the obvious candidate here, but Jawbone says it's not suitable, for some reason.
Another point of concern is the cap protecting the 3.5mm jack. Having to constantly pop it off for data transfer and charging means there's a high chance of losing it, especially since it's so tiny.
Software
The Up's software comes in two parts: the first is the firmware in the actual wristband, and is complemented by mobile apps.
Operating the band itself is simple. There's a button on one end, and a tap switches the mode between day and night, so the band knows whether to track your activity or your sleep.
The apps are very well-designed and easy-to-use, with the usual social features where you can comment on your friends' activities and encourage each other to achieve more. It provides you with daily overviews of your activity, and the ability to drill down deeper into the stats such as number of steps taken, distance travelled, and hours of sleep.
There are areas which the band can't track automatically, such as your food intake and periods of work-out. In those cases, you'll have to manually input these information. Jawbone has a database of food and drinks with its relevant nutrition information, so you could, for example, tell the app you just had a vanilla latte at Starbucks and it will add the relevant information such as calories and fats to your profile.
Although there isn't any local food such as laksa or char kway teow in Jawbone's database, you can still add those types of food in manually, but it won't be able to provide you with any relevant nutrition info. This is still useful, in a way. For one, you should probably lay off that fried Hokkien prawn noodle if Up reminds you that you've been eating the exact same thing for lunch for the past seven days.
When you go for a work-out, you can also manually tell the app what sort of exercise you engaged in, and how vigorous you think the work-out was.
I especially like the little vibration motor that Jawbone has built in. If you've been sitting at your desk for too long, the Up will vibrate and remind you to move around (though it doesn't mean moving downstairs to your nearest McDonald's).
If you turn on the power nap function, the band will detect when you fall asleep and vibrate a specified number of minutes later to wake you up. Set it at 25 minutes and you get a very nifty function for quick breaks in-between work.
Does it work?
There's really no way of telling how accurate the Up is. You have to put your trust in the figures the computer dishes out, and it's obvious that these aren't very scientific.
For instance, I could input "chicken sandwich" into the app, but how does Jawbone know exactly what kind of chicken sandwich I'm eating to give me accurate nutritional information? Of course, being the lazy person that I am, I may just sneakily tell the app I had a slightly more intense work-out when all I did was run around the block once.
So the technology is not perfect, and the human tendency to tell ourselves the stuff we want to hear is a major weakness.
But we shouldn't underestimate the power of having data at our fingertips on our behaviour. Setting a daily goal of 10,000 steps, for example, will very likely encourage us to walk over to the coffee shop down the street instead of taking the car. If we don't meet our goal for several days, guilt will start to step in and will motivate us to work harder thereafter. These numerous little changes add up over time and will work towards making us healthier individuals.
Wrap-up
The Up is undoubtedly an interesting device, and it's merely the tip the iceberg. I've already mentioned the Nike FuelBand, but there's also the Fitbit Flex which does similar stuff, and the Basis Band, which looks more like a proper watch that can measure even your heart rate and skin temperature.
Up definitely has the best design among the lot, and has a fantastic battery life. However, it lacks some features that others have, such as a built-in display for quick reference, and wireless connectivity.
The real question is whether we even need something like the Up at all. The category is still in its infancy, and I have no doubt such devices will do even more in time to come. Perhaps next year we will see an all-in-one wrist computer that connects to our smartphones, act as a health monitor, and includes a GPS chip to track our journeys.
For now, the Up does a great job with its data tracking and gamification elements, adding up as an effective motivator for us to hopefully lead a healthier lifestyle.