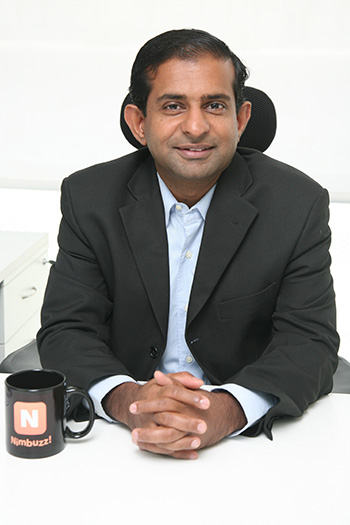 Millions of messages fly above our heads every second, each one akin to a grenade lobbed into an instant messaging (IM) competitor's camp. Although WhatsApp remains the most popular mobile IM client in Singapore, other up-and-rising stars, such as LINE, WeChat, and KakaoTalk, are starting to make their aggressive moves in Southeast Asia.
In this impending war for your messages, one lesser known app is slowly making its move in Southeast Asia. Nimbuzz, which just hit 150 million users worldwide in March, started out as an aggregator of various chat services, such as Google Talk and Skype, and is now also setting its sights on the lucrative Southeast Asian market.
Techgoondu recently sat down with Joby Babu, chief of operations at Nimbuzz (pictured above), to find out more about the company and the state of mobile instant messaging in general.
(NOTE: The following responses have been edited for clarity and flow)
How is Nimbuzz doing in Singapore and Southeast Asia?
We're not too big in Singapore but it's definitely growing. The pace is not as fast as United Arab Emirates, Saudi Arabia or India, which are our key markets, but we're definitely growing in Singapore and Malaysia. Indonesia is also growing pretty well, and Thailand and Vietnam has been picking up in the last six months.
Who do you see as your biggest competitors?
This IM space has been very exciting, and we see five major players in this space, including us. One is WhatsApp, which is a global player. Then there is LINE, which dominates in Japan, because that's their parent market. They're just getting started in Southeast Asia, and doing reasonably well in two to three markets, I would say. There's WeChat, which originated from China. I think it's still kind of restricted to the Chinese mainland, with a little spillover into the Southeast Asian market because they've been marketing the product very well in some of the Southeast Asian countries. And then there's KakaoTalk, which comes from Korea. I don't know how active it is in Singapore, but in Indonesia, they've been putting in some major marketing activities there.
Out of these five, WhatsApp is probably the most global one. We tend to think of ourselves as the next most global property — not in terms of number of users alone, because WeChat is bigger in terms of users — but because of the regional spread that we have. We're the dominant property in India and South Asia, and also in the Middle East and Africa, where WhatsApp is nowhere close to us in terms of usage and users both.
Southeast Asia is also big for us, particularly Indonesia. We're not the dominant property there, as Indonesia is one interesting market where everybody is in now.
Some IM apps, such as LINE and WeChat, have jumped into television commercials. Will Nimbuzz follow suit?
Television commercials may give them some momentary spurts, and it definitely helps in building visibility. It's all about usage, which is going to determine your mid- to long-term sustainability in the market. I would say television commercials are an expensive mode of user acquisition. For a market like Singapore, this might still work as the number of people you need to reach is limited. The same scenario existed in Indonesia two or three months ago, where WeChat and LINE also ran TV commercials.
WeChat had a lot of marketing campaigns in South Asia for the last twelve months, and still going on. But they haven't gotten the type of exposure that they should have gotten. I think only time will prove whether they are able to acquire any new users, and whether they stay on the platform. We have no plans for a television commercial at this particular point in time.
In that case, what sort of growth and marketing strategies does Nimbuzz adopt?
Our strategy is simple: have the best product on the market. We believe our users are our best marketers. The core users are our best ambassadors and their word-of-mouth is the biggest marketing point for the product. So we need to have a very solid product which needs to cater to increasing needs of our users. That's one core philosophy that we believe in.
We also believe strongly in partnerships. Pretty much every handset OEM, from Nokia to Samsung to LG, are close partners with us. We also work closely with operators. In India, for example, two operators have launched very Nimbuzz-focused data packages, where users can send unlimited Nimbuzz messages for free. We're in discussions with all operators in Singapore, and a couple in Indonesia and Thailand to explore our options here. We also partner with developers to create third-party apps within Nimbuzz.
How is Nimbuzz making money?
Our mobile advertising stream is pretty solid, and is able to help to company stand by itself. These include vanilla banner ads and location-based advertising. The other area gaining a lot of traction is the "Brand Buddies" and "Chat Buddies" features, which enable brands to establish a one-to-one connection with its target audience.
We've just launched gaming and a virtual economy within Nimbuzz, which we expect to be big. LINE and Kakao have proven it to be a sustainable model so that should be pretty big especially in Middle East and India.
Our third revenue stream is the voice calling, where app-to-app is free, but you have to pay to call mobile lines.
What do you think is the future for mobile instant messaging?
The good news is, everybody is growing. We believe it won't be so tough to compete with other companies in the IM space for now. The mobile Internet penetration is still nascent in many developing countries, which is true also for Southeast Asian countries, perhaps with the exception of Singapore.
Apps like WhatsApp takes care of one need: messaging. They've become the clear leader of that. Nimbuzz will focus on serving a couple more needs to users, offering a different proposition.