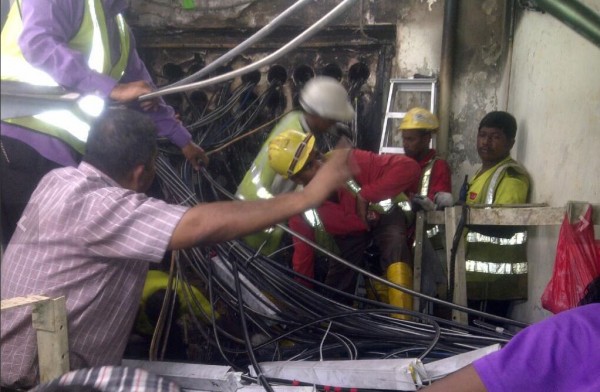 SingTel has been fined S$6 million today, the stiffest by far for a Singapore telecom operator, after it was found to be mainly responsible for the outage in October 2013 that affected close to 270,000 subscribers.
Its contractors had carried out unauthorised "hot works" in the Bukit Panjang Exchange, which accidentally caused a fire that damaged several fibre optic cables.
Along with home users, government agencies, businesses and even electronic payment kiosks were affected by the disruption that hit the western and northern parts of the country, said the Infocomm Development Authority (IDA).
Revealing its investigation results, the government regulator had some tough words for the nation's biggest telco this evening. It said SingTel had lacked supervision of the works done, which were earlier reported to include the use of a blow torch.
The IDA also criticised SingTel for not having a contingency plan to handle a disruption of the scale experienced last year.
Other damning issues included outdated work practices in sealing certain chambers in the exchange, having a single point of failure and wrongly assuming alternative links could be set up.
The S$6 million penalty is four times the S$1.5 million fine handed out only in October 2013 to M1, for the nation's worst mobile network disruption earlier in the year.
It's hard to say if SingTel's punishment is "fair" – the money will go into an IDA fund to get low-income families connected to the Net – but certainly it is not unexpected.
The severity of the outage clearly surpassed the M1 case, in downtime, number of users affected and more importantly, type of services affected. M1 customers couldn't make calls, but SingTel's outage disrupted arguably more important services such as electronic payments.
The IDA didn't stop at SingTel when taking out the cane. CityNet, which owned the exchange, was deemed to have lapsed in its job of ensuring the works were done correctly. It got a S$300,000 fine.
OpenNet, which owned the fibre optic cables, did not cause the fire, but had unnecessarily prolonged the disruption by not restoring things fast enough. It was fined S$200,000.
Without a doubt, very severe penalties. All three parties have also been made to promise improvements in future. SingTel will install fire suppressants, for example, and have staff go through more training. Certainly, blow torches won't be used so freely in future.
It's true, network disruptions may never be fully prevented, but often, it's how fast a network is restored and how the damage is controlled that matter more.
Perhaps the more important followup, after the headlines of SingTel's hefty fine, are efforts to review how resilient Singapore's critical infocomm infrastructure is.
To be carried out in the second half of this year, the government review will include ways for telcos to better communicate and coordinate if a similar crisis occurs in future.
Going by the accusations that the telcos hurled at each other the last time round, they certainly have a lot to work on. For starters, it may be necessary for them to quickly patch up any weak points in the network before an actual failure occurs.
Another issue is cost. All this preparation for a bad day will surely involve consultants and other crisis management experts, which cost money. Will telcos pass this cost to consumers in the long run?