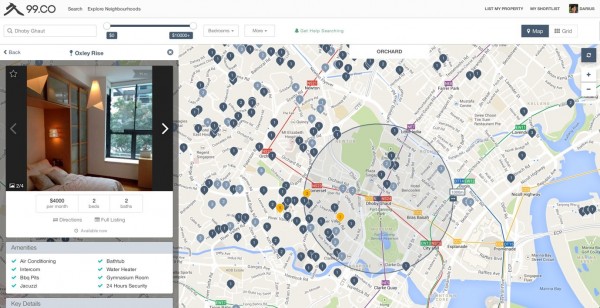 A Singapore startup is taking aim at the local property rental market with a new online portal that promises users an honest and transparent process, from the moment landlords and agents list their properties to the second the deal is closed.
Called 99.co, the site currently contains about 2,000 listings, and is led by local entrepreneur Darius Cheung, who is better known as the founder of tenCube, a mobile security start-up that was acquired by McAfee back in 2010.
"We understand the pain renters have to go through, sieving through listings which are outdated and have bad photos at best, or are duplicated and fake at worst, and calling or texting agents who may be unresponsive," said Cheung, who has himself been a tenant of rented rooms and apartments for the past 20 years.
The portal provides professionally-vetted listings with clear, up-to-date images and descriptions, and even offers free photography services to landlords so that they can better present their listings.
The vetting process involves using a software algorithm to figure out whether a listing is likely real or duplicated based on several data points. After that, staff check each listing manually to make a final call on credibility. The company will also work with listers to improve their listings if they're wrongly flagged as false.
99.co also offers a dose of lifestyle content to help renters make more informed decisions, such as articles that lists out places of food and leisure around popular neighbourhoods, a travel time calculator to help with commute planning, and a quick view of walking time to nearest MRT stations.
Combined with a modern interface and simple search function that is all in all slightly reminiscent of Airbnb, 99.co could resonate with the younger crowd who are increasingly accustomed to cutting out the middle man in their purchase decisions.
That said, Cheung told Techgoondu that 99.co is not out to smash the rice bowls of property agents.
"We actually work a lot with agents to help them list properties and ensure they create good, accurate listings," he said. "But we do re-define the process of how a rental search should be done."
In other words, property agents are more than welcome to use 99.co, but they had better be completely open about their listings.
Unlike property agents, however, 99.co currently has no revenue model. Cheng said his team is still working to design a business model that will work for all stakeholders, but for now, he wants to put the customer first and focus on improving user experience.
Despite the lack of a business model, 99.co won't be in trouble of running out of cash any time soon. Between Cheung and his team's clout and a fresh idea that is seemingly solid, the company has already secured S$700,000 in seed funding from 500 Startups, East Ventures, Fenox VC and Golden Gate Ventures.
The team's immediate priorities after launch are adding new features to the portal, and bringing the experience to mobile apps.
Further down the road, 99.co may expand to other major cities in Asia, such as Hong Kong or Kuala Lumpur. Cheung said the portal will also venture into the buying and selling of property at some point, but first he wants to have the rental market pegged.
"Real estate is a big market, and the inefficiency and problems we see are staggering," he said. "There will be plenty of opportunities for 99.co to tackle."