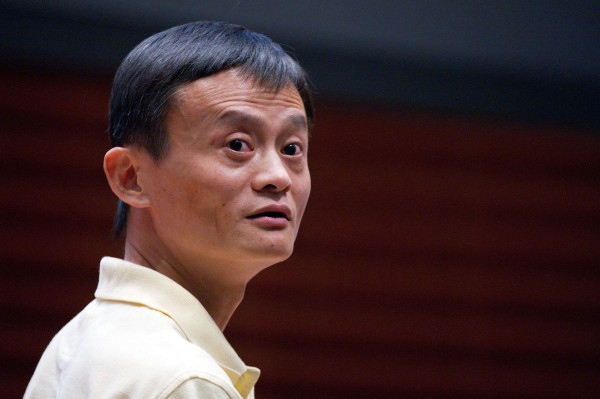 (Photo credit: David Paul Morris/Bloomberg)
The online world opened to billionaire Jack Ma, founder of Alibaba Group Holding Ltd., on his first trip to the U.S. in 1995. While visiting a friend in Seattle who showed him the Internet, Ma typed the word "beer" and couldn't find any Chinese information. He decided to fix it.
Almost 20 years later, Alibaba is China's largest online retailer, and Ma's U.S.-inspired brainchild is readying for an initial public offering in New York that could raise as much as $20 billion, potentially making it the largest IPO there ever. The valuation may make the 49-year-old entrepreneur the third-wealthiest in China, with $12.5 billion, and one of the 100 richest worldwide in the Bloomberg Billionaires Index.
The IPO will represent the crowning feat of Ma's two decades spent building a 25,000-employee powerhouse that forced EBay Inc. (EBAY) to pull back from China and drew an initial $1 billion investment from Yahoo! Inc. (YHOO) Alibaba has grown from an online experiment in Ma's living room that offered two dozen items for sale to a venue for 7 million retailers flogging everything from Alaskan salmon to airplanes. Its businesses generated about $8 billion in revenue last year, a 62 percent increase over 2012, according to quarterly figures compiled by Bloomberg.
"A lot of people hate change, but precisely because we grasped all the changes, we were able to see the future," Ma said at a speech to employees when he stepped down as chief executive officer a year ago. Ma remains chairman. The company declined to make him available for an interview, citing pre-IPO restrictions.
Transforming China
Alibaba has helped transform life in China, offering opportunities to entrepreneurs and revolutionizing retailing for consumers who just a few decades ago used ration coupons to buy items such as clothing, rice and bicycles. Like Mark Zuckerberg of Facebook Inc. (FB), Steve Jobs of Apple Inc. and Jeff Bezos of Amazon.com Inc. (AMZN), Ma has become an iconic figure whose impact stretches far.
A former English teacher who lingered outside his native city of Hangzhou's main hotel to practice the language with foreigners, Ma and his story reflect China's emergence as an economic superpower. Chinese Internet users have grown to 618 million, greater than the population of any other country except India, and could exceed 850 million by 2015, according to government data. McKinsey & Co. predicts online retailing in the world's second-largest economy will reach $395 billion next year, triple its 2011 level. Ma has positioned Alibaba to ride China's surging forces of technological change.
Pushing Forward
"If Steve Jobs created the operating system for the smartphone, Jack Ma and his team created the operating system for commerce in China and the future," said Porter Erisman, who directed the documentary, "Crocodile in the Yangtze: A Westerner Inside China's Alibaba.com," that chronicled his eight-year employment at the company starting in 2000. "He's someone who loves a challenge. He's motivated by doing things that push China forward."
Already, Alibaba is the source of more than 70 percent of package deliveries in China and has broken what may be a worldwide sales record of $5.6 billion in a single day. It has also pioneered a service that lets users deposit money into accounts via smartphone, drawing about $87 billion in its first nine months, more than double Goldman Sachs Group Inc. (GS)'s 2013 revenue. Alibaba has helped create 15 million jobs, Ma said in a February letter to employees on the company's official microblog.
"Going public has never been our goal — it is just an important strategy and method to achieve our mission, a gas station which can help us move forward," Ma said in a separate e-mail to employees just before filing for the IPO.
Expanding Realm
After achieving dominance in the businesses of Amazon.com, EBay and PayPal combined, Alibaba is expanding into the realm of Sony Entertainment. Last week, it announced a $1.22 billion stake in China's largest online video site, Youku Tudou Inc. (YOKU) after saying in March it would acquire a producer and distributor of TV and movie dramas. Ma is also putting his own money into one of the first companies in China with an Internet TV license.
"Jack is very passionate," Jonathan Lu, Ma's handpicked successor as CEO of Alibaba, said in an interview last year. "He has a strong awareness of crisis and is very farsighted."
The first step to building an online empire began when Ma registered a website, China Pages, a Yellow Pages-like directory, in the U.S. after his visit to Seattle, where a friend had showed him the Internet.
'Something Interesting'
"I searched the word beer, b-e-e-r, very simple word," Ma recalled in a television appearance shown in the documentary. "I found American beer, Germany beer, and no Chinese beer. So I was curious. I searched 'China,' and all search engines said no China, no data."
Ma said he asked his friend to help him create a home page in Chinese, and within five hours of posting it, he received five emails from the U.S., Japan and Germany seeking more information.
"I was so excited," he recalled. "I said, 'This is something interesting.'"
To start China Pages, Ma took 7,000 yuan from his savings and borrowed money from his sister, according to a book in Chinese by Ma's personal assistant Chen Wei and verified by an Alibaba spokesmen.
The company's first two employees were Ma's wife Zhang Ying, who was his university classmate and colleague when he taught English. Zhang played an important role in Alibaba's early days until she turned to more-domestic responsibilities and raising their son, according to Chen's book and company spokesmen, who declined to give the son's age.
Meeting Yahoo
Ma's early attempts with China Pages didn't take off, so he joined the Ministry of Commerce in Beijing, helping the agency set up a website. It was there he met a first-time visitor to China, Jerry Yang, the co-founder of Yahoo who eventually invested $1 billion to obtain 40 percent of Alibaba, a stake that was later reduced after Yahoo said the Chinese company spun off its PayPal-like online-payment business, Alipay, without informing shareholders.
By 1999, the Internet stock boom had gripped Wall Street. Ma, feeling the change as far away as China's capital, left government service and returned home to tackle a new idea.
Back in his Hangzhou apartment, with his wife and a group of friends, Ma set up Alibaba.com, a yellow page-like site that allowed businesses to sell to each other. Believing that the moment would become of historic value, Ma had the kickoff meeting recorded on film.
'Internet Dream'
"Don't worry, I think the Internet dream will not die," Ma was filmed saying at the February 1999 meeting, which was later aired by China's state-run broadcaster, CCTV. "The reward we will receive for the price we pay in the next three to five years is not this apartment, but 50 of these apartments."
Among the 18 founders was Joseph Tsai, a Taiwan-born Canadian lawyer working for Sullivan & Cromwell LLP in New York whom Ma had persuaded to join the team and help secure funding. By 2000, Alibaba had raised $25 million from investors including SoftBank Corp. (9984) and Goldman Sachs.
Alibaba.com, which had struggled to find a way to generate revenue, learned that merchants were willing to pay for better displays of their goods. The website attracted 1 million users in 2002 and became profitable that year, according to details released by the company.
It didn't take Ma long to tackle a bigger challenge: EBay's expansion in China. To counter it, Alibaba started Taobao, a platform where individual sellers could trade with each other, in 2003. Taobao publicly declared war against EBay, and the resulting media coverage drew attention to the website.
Countering EBay
"By generating a public-relations battle with EBay, there would be a lot of buzz about Taobao, and therefore with every dollar that EBay spent, it would help feed this buzz about Taobao," said Erisman, a former executive at the company including in the marketing department.
He cites Ma's professed interest in Chinese martial arts as a motivating strategy: using an opponent's strength against him.
"EBay is a shark in the ocean; we are a crocodile in the Yangtze River," Ma was quoted as saying on numerous occasions at the time. "If we fight in the ocean, we will lose, but if we fight in the river, we will win."
They did. Using search-engine technology that came with Yahoo's stake in 2005, Alibaba made Taobao listings free for merchants. EBay, which charged them, announced in December 2006 that it would close its unprofitable site in China.
Tai Chi
Ma's management philosophy has roots in tai chi. He sometimes travels with a personal tai chi trainer and formed a company spreading awareness of the Chinese martial art with movie star Jet Li. Ma also cites motivation in the works of Hong Kong novelist Louis Leung-Yung Cha, who writes under the pen name Jin Yong, and encourages employees to give themselves nicknames based on the novels' characters.
Inside Alibaba, Ma goes by "Feng Qingyang," who in one of Ma's favorite books is a reclusive swordmaster and kung fu guru who trains his apprentice to become a hero. Naming himself after the unpredictable-yet-nurturing Feng traces to Ma's own roots as a teacher, Ma told Chen Xiao-Ping, a professor at the University of Washington in Seattle, in an interview published last year by the International Association for Chinese Management Research.
"Jin Yong's martial-arts novels are the most down-to-earth way of explaining Confucianism, Buddhism and Taoism," Ma said in the interview. "They cherish brotherhood, morality, courage, emotion and conscience."
New Leaders
Ma has handpicked Alibaba's next generation of leaders, including CEO Lu and two women: Chief Financial Officer Maggie Wu, and Lucy Peng, who oversees one of the fastest-growing areas of Alibaba's future, Alipay and its investment platforms including Yu'E Bao. The financial arm isn't included in the entity Alibaba is listing in New York.
"The success of a CEO should be determined by the number of people he trained that can surpass him," Ma said in the Chen interview. "If someone warns me about an employee who is trying to overstep me, I reply that I'm a teacher, and that's the way it should be."
Ma was born Sept. 10, 1964. His parents were Chinese traditional musician-storytellers in Hangzhou, according to details confirmed by company spokesmen. The city of 8.8 million people about 100 miles southwest of Shanghai is a favorite of foreign tourists because of its West Lake, stone bridges and other historic sites.
Meeting Foreigners
When he was a teenager, Ma began meeting foreigners just starting to make China a tourist destination again following the Nixon-Mao rapprochement of 1972. For nine years, Ma hung around outside the Hangzhou Hotel, now a Shangri-La, getting up at 5:00 a.m. to talk with travelers, according to the Crocodile in the Yangtze documentary and the Chen interview.
Ma failed China's national university entrance exam twice before he was admitted to what is now Hangzhou Normal University. He graduated in 1988 and spent five years teaching English at a local university, earning $15 a month, according to details confirmed by company spokesmen.
With Ma's net worth now set to be five times what it was in 2012 — when Alibaba delisted its business-to-business unit Alibaba.com from the Hong Kong Stock Exchange after share prices slumped — he's come a long way from a teacher's wages.
Ma's economic interest in Alibaba is about 7.4 percent, after subtracting for stakes he controls through a non-profit organization.
Maintaining Control
By listing in New York instead of Hong Kong this time, Alibaba will set up a partnership of executives to nominate the majority of board members. A breakdown in talks with Hong Kong's stock exchange last year led Alibaba to seek its IPO listing in the U.S., where Alibaba's partners will be allowed to maintain greater control over the company. Arrangements allowing shares with different voting rights helped Facebook founder Zuckerberg and Google Inc. (GOOG) co-founders Larry Page andSergey Brin maintain control after they went public.
Controversy in Hong Kong over the move to list in New York, the rift with Yahoo in 2011 over the handling of Alipay, and Ma's public outspokenness on a number of issues sometimes damages his reputation and draws scrutiny, said Teng Bingsheng, a Beijing-based professor at Cheung Kong Graduate School of Business.
"Ma has a controversial reputation," said Teng. "He's willing to take a bet on really big decisions and not be bound by concerns for his reputation."
Just like Larry Ellison, Richard Branson, Ted Turner and other billionaire founders the world over.
—
To contact the reporter on this story: Lulu Yilun Chen in Hong Kong at ychen447@bloomberg.net
To contact the editors responsible for this story: Michael Tighe at mtighe4@bloomberg.net
Sheridan Prasso, Dave McCombs
This article was originally published on Bloomberg News. Reproduced here with permission.