Another day, another fine for a telecom company in Singapore.
This time, OpenNet has been told to cough up S$240,000 after it failed to provide fibre broadband services to non-residential users on time, from April to September last year.
The company, tasked to build the country's national fibre optic network, had failed to connect up users fast enough, according to new standards set by the government regulator in January 2013.
Revealing that OpenNet had failed to meet the targets by a "large margin", the Infocomm Development Authority (IDA) yesterday said it sought to take deterrent action against the company.
The IDA appears justified in its tough talk. A quick glance at the numbers released yesterday shows that OpenNet's performance has actually got poorer over time.
In January 2013, it had managed to connect about 60 per cent of users within four weeks, below the 80 per cent target. It hooked up 86 per cent of users within eight weeks, again below the 100 per cent requirement.
Things got even worse as the year progressed. In September 2013, the company connected only 46 per cent of users within four weeks and 66 per cent in eight weeks.
As a result, many users could not get hooked up to the nation's fast broadband services, because they were stuck trying to get OpenNet to connect them.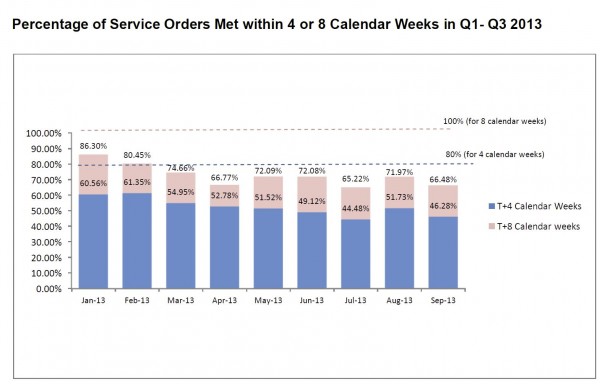 The issue is a long standing one (read our commentary in 2012). Last year, OpenNet was also fined S$750,000 for delays in provisioning its service as well.
Will the fine work this time? Well, OpenNet has responded to the news by saying it would be working with building owners as well as Internet service providers to get the connections up faster. It also promised to increase its resources, though it did not specify by how much.
The big question is whether things will improve in 2014. When OpenNet was sold to a SingTel business trust late last year, the expectation was that such installations would be smoother.
Then again, consumer expectations of telecom services have never been lower, if increasingly hefty penalties meted out by the IDA are any indication.
Just on Tuesday, the IDA had fined SingTel a record S$6 million for a fire at a telecom exchange that brought down major services from home broadband to electronic payment terminals. OpenNet was also fined S$200,000 for not restoring services fast enough.