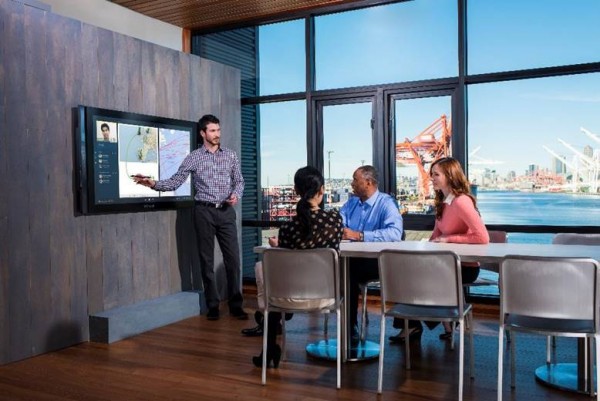 A large Surface is coming to town – and it is not your usual touchscreen tablet. The Microsoft Surface Hub is a wall-mounted, 55- or 84-inch Windows 10 touchscreen computer which hopes to replace conventional teleconferencing and digital whiteboards used in offices.
The Surface Hub comes with a full HD (1,920 x 1,080) camera on both its sides so those on the other end of the teleconference will be presented with as wide a view of the meeting room as possible.
The built-in microphone array works with Microsoft's own Skype for Business software to eliminate background noise.
Supporting 100 touch points and up to three simultaneous pen inputs, the screen on the Surface Hub can work with digital canvases like OneNote to facilitate easy collaboration and brainstorming.
Microsoft promises a fluid and responsive experience with its pens, which it claims feels just like a pen on paper. Two pens are included in the package, together with a wireless keyboard.
Bringing the canvas and camera together on a Windows 10 device also means it is easy to share documents, spreadsheets and crops of webpages with other computers. Content displayed on the Surface Hub can be viewed remotely by participants in the teleconference.
Customised versions of Microsoft Office and Skype for Business comes with the purchase of every Surface Hub. Users can also take advantage of Universal Windows apps built for Windows 10, which will scale to take advantage of the large screen automatically.
An Intel Core i5 or i7 processor powers the Surface Hub, coupled with 8GB of RAM and a 128GB solid state drive for storage. The screen has a resolution of 1,920 x 1,080 on the 55-inch version and an eye-watering 3,840 x 2,160 on the 84-incher.
Wi-Fi , Bluetooth 4.0 Low Energy support, gigabit Ethernet, Miracast capabilities for streaming images onto another display and a Near-Field Communications reader completes its connectivity options.
Microsoft's move here is disruptive, given the Surface Hub's advantages in integration and broad support through the use of Windows.
The main question for potential buyers is whether the souped-up features like noise cancellation and remote screen sharing are available only to those who use Microsoft's own suite of software.
Out next month in 24 markets, including Singapore, the Surface Hub won't come cheap. It will set you back a cool US$6,999 for the 55-incher and US$19,999 for the 84-inch.