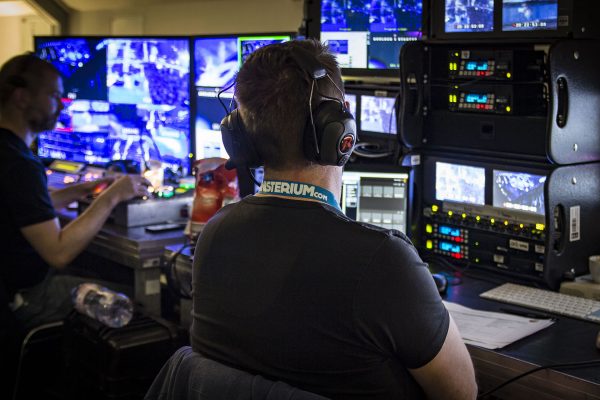 Brought to you by Singapore Exhibition Services
Video streaming over the Net has become a remarkably common thing today, thanks to the proliferation of over-the-top (OTT) players such as Netflix that bypass traditional pay-TV networks to deliver their content.
The same Internet technology bringing such services to homes has also been used in some form in many broadcasters keen to move to a new, more efficient model for the storage of video footage, for example.
Only of late have broadcasters been embracing Internet Protocol or IP for the production and transmission of their videos, especially for live events that usually demand a steady bandwidth stream offered by traditional systems.
The new Video over IP systems, however, will be a big change for an industry that is also facing the same digital disruption rippling across other verticals, from manufacturing to hospitality. In the new technology, broadcasters are finding more flexibility, efficiency and ease of use.
Like a cloud service such as Dropbox, such a Video over IP system allows a production crew to tap on a shared network infrastructure to send live feeds of events with much less on-site equipment. They save on costs and can be more agile in managing resources.
A crew may only carry with them their IP-connected cameras and network equipment to connect to the cloud, instead of a van full of the usual associated gear to hook up to an expensive broadcast network.
From here, the video can be made available to various people on a team, who can pick it up and run with the footage quickly.
What this means is that broadcasters can roll out TV channels at a quarter of the cost from before, said Rajveer Singh, general manager for Southeast Asia at Riedel Communications, which makes IP equipment for live broadcast events.
Instead of an expensive satellite link or lots of bandwidth, the new IP setup makes it more affordable for broadcasters, he noted, adding that the complexity and entry barriers have also come down over the years.
Indeed, broadcasters are likely to move on to IP by 2025, as the technology adoption gains momentum in the industry, according to research firm Futuresource Computing.
It found in a survey in 2015 that a third of broadcasters are already using IP in live production, with a further two-fifths in transition to IP.
"IP equipment and software has been present within the broadcast industry for well over 15 years now, with file-based workflows used widely around the world," said Futuresource senior analyst, Adam Cox, in an article on industry website Rapid TV News.
"The last area holding out from the transition to IP-based systems and architectures is live production, the most precious but also most complex form of content production," he added.
If there is one issue that still faces IP systems, it may be the uneven network infrastructure in some countries, especially in Asia. For a demanding live feed, the network has to be well built and provide enough quality.
In Singapore, Hong Kong and Taiwan, places where broadband is widely available, the situation is ideal for such an IP system, said Singh. However, in other countries or regions where connectivity isn't as good, things can become more challenging, he added.
Still, he believes the technology is ready and network connectivity is constantly improving in many countries in the region. This means an IP-based system is made for the future, he added.
Another question that comes up often is the ever more demanding video streams. While the industry had set itself to deliver Full HD videos for years, 4K or Ultra HD has become common in households in a few short years. Even 8K has been demonstrated in trade shows, to show off the state of the art in high resolution video.
This means broadcasters are constantly seeking new ways to deliver such content smoothly. One way is to compress the videos as they are being delivered over a network, so they are more efficiently moved along.
There are various standards involved for compression today, but Singh said these would be settled eventually in the years ahead so broadcasters won't be in a situation where they are locked into a format.
"This isn't like PAL versus NTSC," he added. "Ultimately, people will go with a format that suits them, more like a PC or a Mac."
Find out the latest trends on video on Internet protocol and more at BroadcastAsia 2016 from May 31 to June 3, 2016.