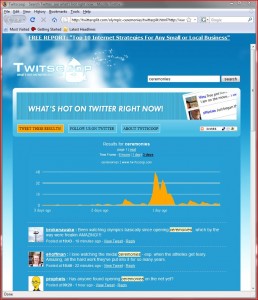 Where people used to just passively absorb TV images beamed at them at home, today's Net-savvy crowds share their thoughts instantly online through Twitter, that microblogging site that lets people post instant, quick comments on what's going on in their lives.
According to iReport, Twitter traffic surged through the roof during the opening of the Olympics opening ceremony.

Comments ranged from the way George Bush and wife looked to how Yao Ming hoisted a kid high in the ceremonies aimed at finally showcasing China's modern power after decades of turmoil.
Call it citizen journalism, interactive media or anything you like. If there's still any doubt on this, it's the latest indication yet that audiences prefer to be active – not passive – with what they see and read from the mainstream media.