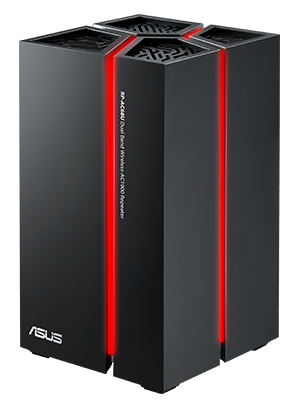 The way wireless routers have turned out of late, with messy arrays of antenna, you won't expect a souped-up Wireless AC repeater such as Asus' new RP-AC68U to actually look sleek. Surprisingly, it does.
What it does is to extend wireless signals from your  fast Wireless AC router to places with poor signal quality, like blind spots at home. The four built-in antennas on the RP-AC68U promise to hook you up at speeds of up to 1,900Mbps.
That's theoretical speed, of course. In fact, that's the aggregate of the two Wi-Fi bands in use – 600Mbps on the 2.4GHz band and 1,300Mbps on the 5GHz band – at the same time.
Still, if you want to keep to the high-performance Wireless AC connectivity around all the corners at home, Asus' new gadget may be what you're looking for. It should complement your newfangled Wireless AC router.
You can run the RP-AC68U like an access point as well. That means you hook up a wired connection to it and share that link wirelessly with a number of devices. If you want to create a new Wi-Fi bubble in a corner of your apartment, this zippy Wireless AC gadget should help.
The surprise is that it actually looks sleek doing so. To be fair, it isn't the first wireless gadget to appeal with its looks. Linksys' "dustpan" design in the past as well as D-Link's cylinder-like routers have changed the way people perceive a home networking device.
Still, Asus should get some points for trying to be a little different here. The squarish-looking Asus RP-AC68U is going for S$259 now in Singapore.