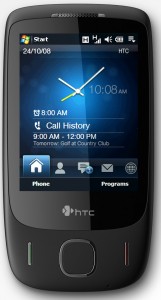 The Taiwanese phone maker showed off to the media (and Techgoondu) two nice additions to the Touch family – the Touch 3G and Touch HD – in a media briefing today.
Not that these are entirely new, as they have been unveiled previously on the Net. But getting the touch and feel (sorry for the pun) of these phones do make you feel like they will sell pretty well.
The Touch 3G is basically an upgrade to the original HTC Touch, which users loved for its nice shape and different colours. It now has 7.2Mbps 3.5G built in, as well as a somewhat slimmed down version of the TouchFlo 3D interface found on the flagship Touch Diamond.
This slimmed down version, however, moves along faster, so you won't feel any of the lag you'd find in the Touch Diamond as your fingers slide across the screen. The trade-off is that it's less pretty, and this is not helped by a 2.8-inch screen offering just QVGA, or 320 x 240, resolution, instead of the Touch Diamond's VGA 640 x480.
But at a price of S$798 and packed with features like GPS and a 3.2-meg camera, the 96gram Touch 3G will attract users looking for a relatively affordable touch-phone.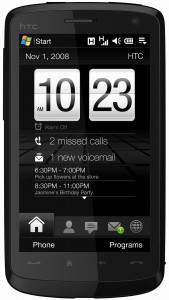 The other new phone, the Touch HD, however, will probably attract only the niche (or riche?) market. It costs a hefty S$1,388.
What do you get for that? A nice big 3.8-inch (480 x 800) screen for surfing the Web and watching YouTube videos. The kitchen sink is, of course, thrown in as well, with GPS, a 5-meg camera, SD memory card slot and a handy 3.5mm audio jack for plugging in your own headphones.
It also has vibra feedback for its hardware call/hang up buttons and for its on-screen TouchFlo 3D buttons. Good move, I say. We know that the Samsung Omnia already has this haptics feature and it gives new touch-users more certainty when they tap on an icon.
The TouchFLo3D has also been opened up to developers, according to HTC. And to show that off, it has included a new Stock Quotes tab on its regular TouchFlo 3D interface. This gives you info on the latest stocks from Yahoo Finance.
Not bad, all in, except the price, of course.
Now, Touch Diamond users like me can only hope that all the updated goodness for TouchFlo 3D, which is, by the way, pretty smooth on the Touch HD phone, will be available in a firmware update for us in future.