Hands up if you've got a Windows Mobile phone that you never bothered to sync with your PC.
Well, there's an easier way now. I'm talking about Microsoft's My Phone offering that was just unveiled weeks ago at the Mobile World Congress show.
The simple yet nifty software service lets you back up your Windows Mobile 6.x phone's calendar, contacts, photos and SMS messages (yes, SMS messages, finally!) to an online depository for free.
Microsoft invited Techgoondu to be among the first 200 users in the world to test it out, and I have to say "it's about time"!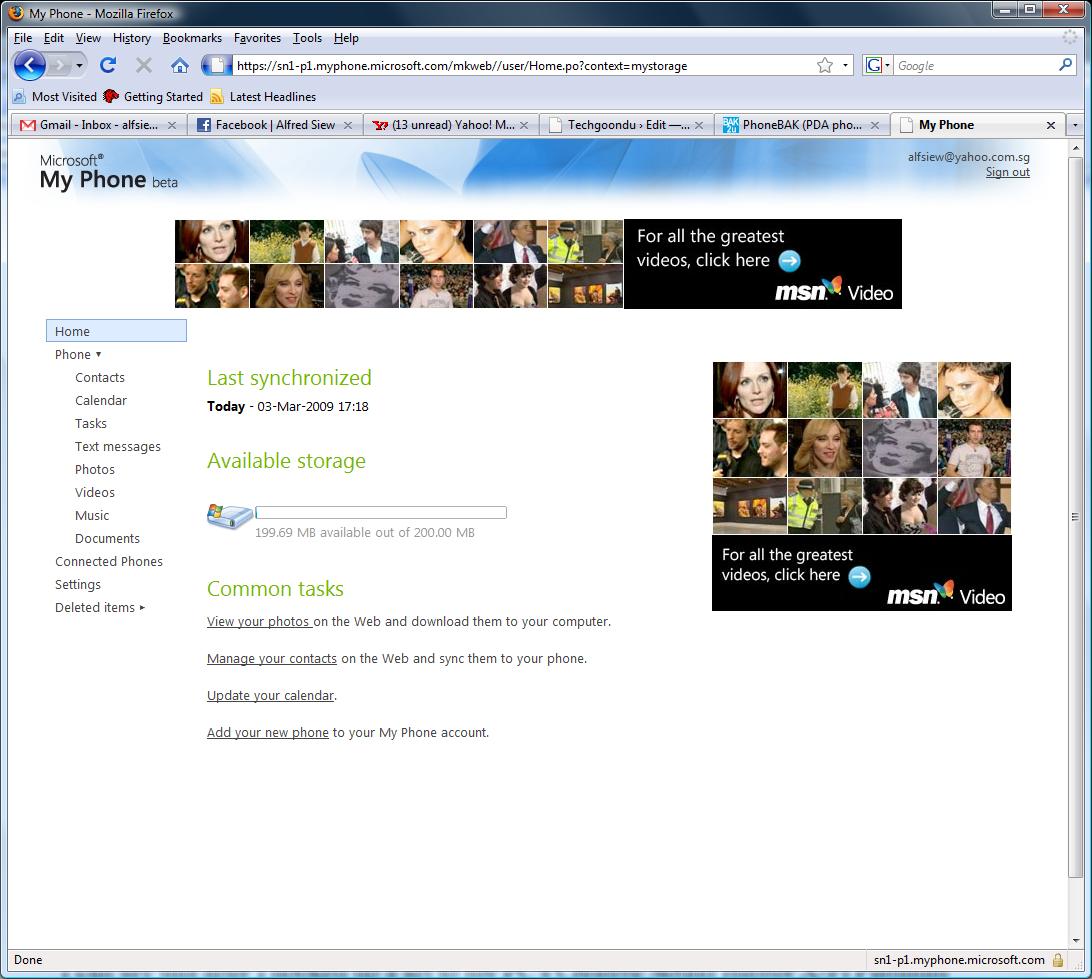 First off, it's easy to use. I simply downloaded the My Phone application to my HTC Touch Diamond (using free Wi-Fi at home, of course) and logged in with my Windows Live ID.
After that, I chose from a list of stuff to back up:
-contacts
-calender
-tasks
-text messages
-photos
-videos (don't do it over a 3G network!)
-music
-documents
My most precious stuff were obviously Contacts, Calender and Text Messages, so I checked those boxes. Then all I had to do was tap on "Sync" and the stuff was backed up over the air. Yup, it was that simple.
To view or retrieve my stuff, I'd go to the Microsoft My Phone site (hmm… shouldn't it be myphone.live.com instead?). Here, a neat and orderly view of all the stuff I've backed up are instantly on hand. In Steve Jobs' words, it just works – take that, MobileMe.
By far, My Phone is one of the most seamless integration between mobile and online services I've seen in a while. One log in, one-touch sync and you have your most important stuff backed up safely.
You can choose to manually back up your stuff, or to schedule a regular backup over the air.
In any case, no more installing bloatware onto your PC just to backup phone numbers. And get this, you don't even need to install Outlook any more to sync your Windows Mobile phones in future – you can now use the online calendaring feature on My Phone (Google Calendar users, take note).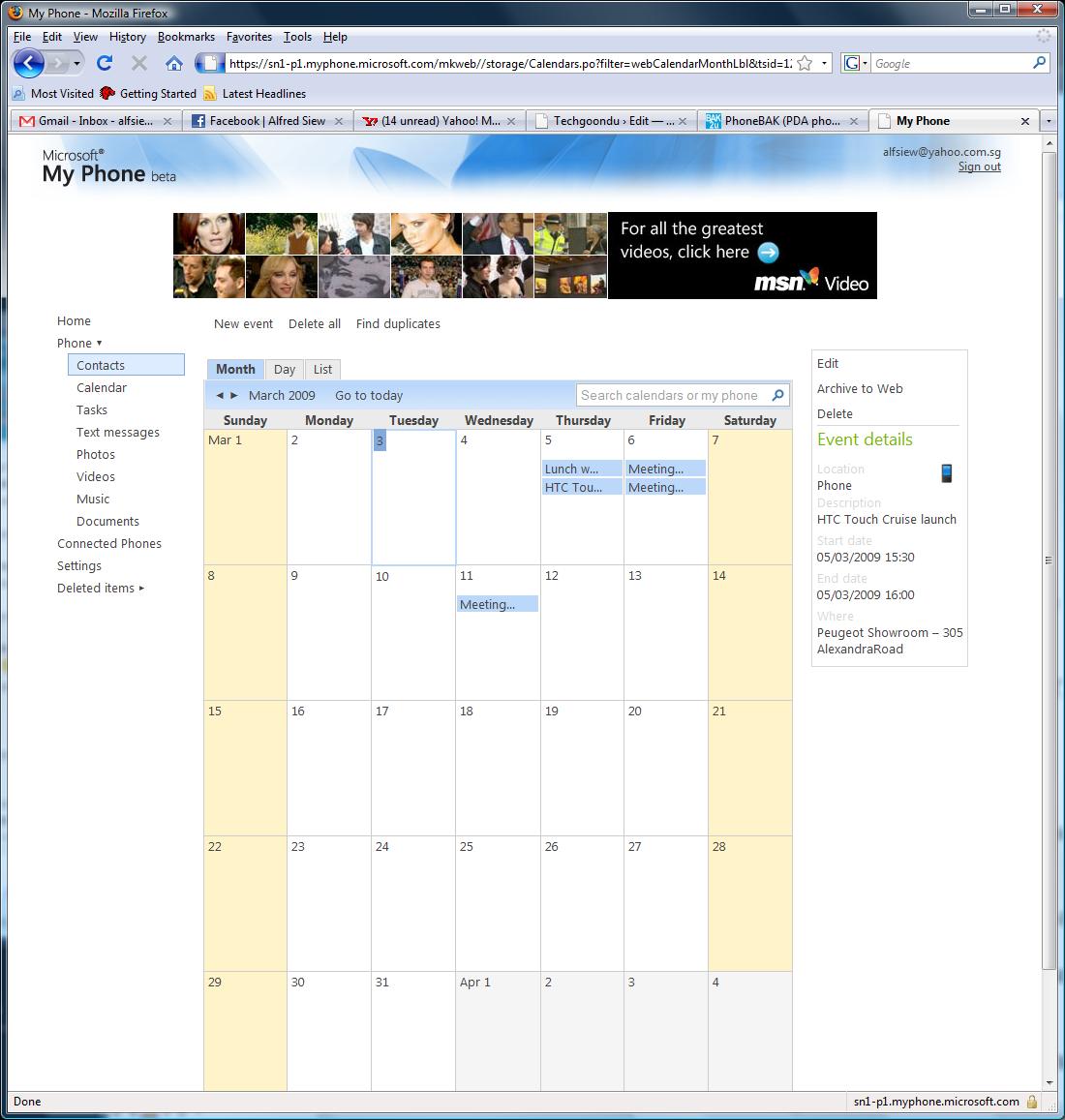 Let's not forget SMSes. I can't believe that until My Phone came out, we've had to pay for a third-party app to backup SMSes on Windows Mobile phones. How many years have I not backed up my SMSes already!
Okay, despite the good news, here's what I'd like to see improve before Microsoft launches My Phone to the masses by the end of this year.
1) Tighter integration with Live services – come on, now that you are okay with people dumping Outlook, why not integrate My Phone features, like calendering, tighter with all the other good stuff on the new Live bundle?
2) Richer experience – My Phone works pretty well now, but I'd expect Microsoft to build more stuff in, say, remote wiping of data if you lose your phone. And the calendar on My Phone looks really spartan compared to Google Calendar. In other words, more work needed.
Also, one note for those thinking of doing this backup over the air – this might cost you if you back up loads of stuff over 3G. Think of doing your first sync over Wi-Fi at home, and then perform the incremental backups on the go.
Another note: this is, of course, not the full monty. If you lose your phone, your sexy photos (assuming you're as hot to women as Edison Chen) will still be there for whoever picks it up.
To wipe that stuff off remotely, you'll need something like Bak2U's PhoneBak. It also quietly sends out an SMS from the thief's SIM card, which lets you give him a surprise call.