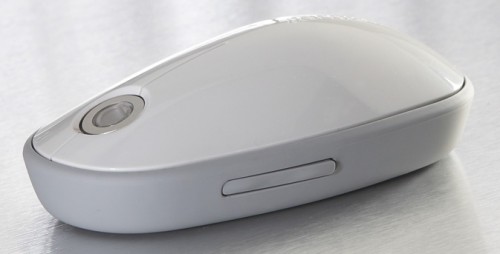 Targus has recently introduced a series of peripherals aimed at Mac users who tend to be a picky bunch when it comes to design. The Targus for Mac line includes the Bluetooth Laser Mouse (seen above), Wireless Mouse, USB Hub, Bluetooth Presenter, File Share Cable, Privacy Screen and Chill Mat. Techgoondu laid our hands on a few of these products which should go down well with owners of both new and old Macbooks and Macbook Pros.
Bluetooth Laser Mouse
At first glance, this Bluetooth enabled mouse is shaped somewhat like Apple's Mighty Mouse which I have been using with my 2-year-old white Macbook. Ergonomically, it feels familiar and comfortable to hold and control mouse movements. The grey edges and base of the mouse is made of material that gives users with a good grip.
There are five buttons that are used to control various mouse operations, including two programmable buttons on the left edge. In Mac OS X system preferences, you can control the Bluetooth Laser Mouse's tracking and scrolling speeds, which tend to be way faster than what I had set for the Mighty Mouse. For more accurate tracking, make sure you lower those speeds if you've been using the Mighty Mouse.
While you can still use the Bluetooth Laser Mouse without any software, the programmable buttons do require Targus' driver software, which allows you to run AppleScripts, launch apps, perform keystrokes or predefined functions such as bringing up the Dashboard in click.
Clearly missing from the Bluetooth Laser Mouse is a mechanical scroll wheel. Instead, Targus has designed a touch scroll where you run you run your finger over an optical unit in the middle to scroll horizontally and vertically. This may take some getting used to, especially if you're used to a conventional scroll wheel. In the beginning, I found the touch scroll a tad too sensitive, and had to reduce the scroll speed for greater control. The optical unit also serves as an indicator to warn you when battery power is running out via a blinking red light.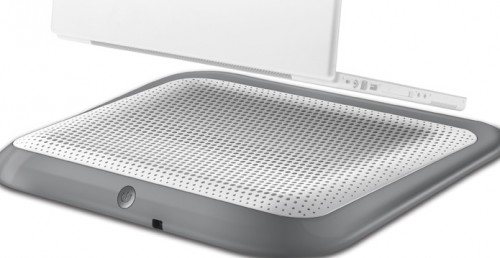 The Chill Mat is essentially a cooler pad that helps to lower the temperature of a running laptop, especially my Macbook which tends to get hot after a while. Powered by a USB port, the Chill Mat comes with two fans to cool your laptop and a mesh material underneath that keeps your laps cool. There is a switch for you to turn the fans on or off, but you can't control the fan speeds. I found working on my Macbook more tolerable with the Chill Mat, though be prepared for battery life to take a hit and to sacrifice one USB port unless you're using a USB hub.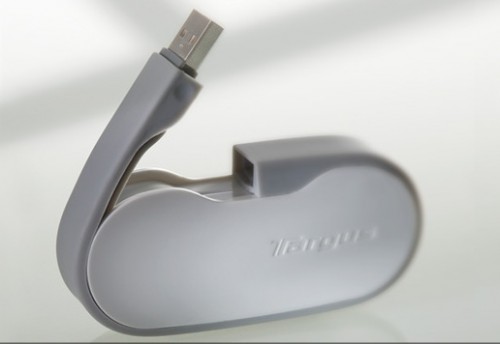 This compact 4-port USB 2.0 hub will be welcomed by those who are looking for a matching product that goes well with Macbook designs. When not in use, the ports are protected by a wide rubber cable that fits snugly into the edges of the USB hub. As someone who hates wire clutter, it would have been better if there was some way of tugging the USB cables somewhere within the hub.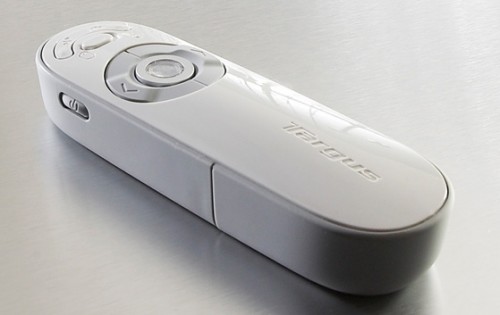 The Bluetooth Presenter is possibly the gem in the Targus for Mac line. This nifty laser pointer/slideshow controller/mouse hybrid is targeted at those who need to walk across a large room to connect with audiences during a presentation without being tethered to the laptop.
In Mouse Mode, the Bluetooth Presenter can be used as a mouse for you to start and navigate within an application. Like the Bluetooth Laser Mouse, you can program two buttons to run AppleScripts or even start your Keynote or PowerPoint application. Also, the volume control buttons at the side are especially useful when you need to raise the volume when showing stuff from video sharing sites.
At the center of the Bluetooth Presenter lies a touch scroll optical unit that brings up a laser pointer when depressed. Like the Bluetooth Laser Mouse, you control the mouse onscreen by running your finger over the optical unit which will emit a red light whenever the device is out of range. There is a tendency, however, for users to click on the optical unit to register a mouse click, rather than use the surrounding left and right buttons.
In Presentation Mode, you can start and stop slideshows with dedicated buttons at the top, including the ability to switch to a blank screen to prolong your laptop's battery life if you're not connected to a power point during a presentation. Bluetooth Presenter works with both Keynote and PowerPoint, but make sure you specify your presentation software in the Targus device settings.
The only problem I had with the Bluetooth Presenter was the need to increase cursor speeds when I'm using it in Mouse Mode since it appears to be less sensitive than the Bluetooth Laser Mouse that's connected to the same machine. Although I have two mice connected, Mac OS X does not allow any way of specifying different cursor speeds for each mouse.