Firstly, a big apology to readers for the late announcement. I would have liked to say that I wanted to keep readers in suspense, but in truth was held up by a horribly busy week. Again, my sincerest apologies.
If you haven't read the previous roundup on this Sony Ericsson contest, you're missing out on some other really good entries. There were a few close runner-ups that were pipped by just a vote or two, and would have won if the votes had fallen in other ways. Still, in a contest decided by democratic votes by the judges, the majority speaks, even if winners win by just a sliver of votes.
Without further ado, let's move on to the three winners!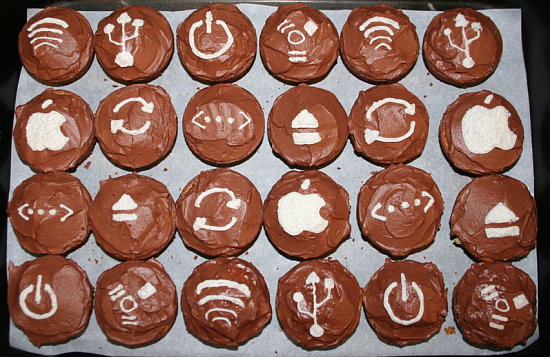 Our first winner is Ms Aileen Ang from Ubi, who sent in the above photo of cupcakes that she baked herself. This entry was almost unanimously voted on by all the goondus. Here's what she said:

I am such a fan of Mac that my cupcakes are decorated with Mac navigation controls and function keys! Talk about being geeky! It combines my favourite hobby (baking) with my geeky personality. I suppose almost none of my girl friends would ever attempt this stunt!

Our other two winners were story descriptions of geeky moments that tickled the goondus' fancy, and enough votes were tipped in their favour.
Our second winner is Zorana from Hougang who had this amusing short story of her stylus addiction to share with us:

Being both a tablet notebook and touch screen mobile phone user over these years, I am very used to working around with a stylus pen. It all went well until one presentation that I was conducting with my laptop connected to a LCD TV.

In the midst of the meeting, I was so engrossed that I moved toward the TV and began tapping away on the screen with the stylus pen to further illustrate my points. When the screen content didn't move to my clicks, I absent-mindedly blurted out: "Gosh, don't tell me the system is dead?" in front of my amused audiences. At that instance, I realized my big boo-boo but the crowd was already giggling away and I froze there blankly with my face turning red with embarrassment.

Luckily, a quick-witted telco VP came to my rescue and said, "Hey, perhaps we should give this lady an applause for her innovations, she might just as well be the next inventor of the touch screen LCD TV!"

Needless to say, I became the joke of the year as the word spread across the trade but whenever someone brings out that TV screen-tapping incident, I would always cite my gratitude to that good-natured VP who bailed me out that day.

And our last winner is Peter Tan from Hougang who shared his story of illegal bluetooth activities. Many of the goondus are car drivers who talk and drive, so this story tickled the judges:

I was driving behind a friend and we were both talking on Sony Ericsson phone to each other. At a stoplight we ended up being about a car length behind each other so I decided to shoot a picture of his car while still talking on the phone to him. Then I connected to his phone via Bluetooth and actually sent the picture to his phone.

You have to be a true geek to fully appreciate this experience. Needless to say, we were both impressed with the fact that the phones connected and exchanged the picture over Bluetooth while still retaining the voice connection. I wanted to call some geeky friends to share the joy but I couldn't reach anyone else on the phone.

Why is this geek moment unique to Singaporeans? Well, who dares to break the law in Singapore? Talking on a phone while driving side by side with a friend. I did not get caught and this time there were no cars around. This is the first time and the last time doing it. I will not do it again.

Congratulations to all our winners! You will be notified via a call on how to collect the phones from us at a later date, probably within a week or so.
For readers who have sent in entries for this contest and the previous LG TV one and didn't win anything — thank you for supporting us — please do not stop sending in your entries for future contests! All techgoondu contests are not random lucky draws, and if your entry is well thought out you will definitely stand a chance to win something someday. 🙂
Lastly, on behalf of the goondus, I sincerely thank all readers who have spent time and effort participating in this little contest of ours. Have a great weekend ahead!