… is still a netbook.
Yes, I am talking about Nokia's Booklet 3G, the cellphone giant's first mini laptop. If you needed the surest sign of the convergence between smartphones and laptops, details of Nokia's new gizmo are it.
Unveiled hours ago, the 1.25kg Booklet 3G will feature the usual compact screen (a 10-incher here) first made famous by the first netbooks in the shape of Asus' Eee PC. Nokia's small machine will also feature an Intel Atom processor and run Microsoft Windows – standard fare now in netbooks.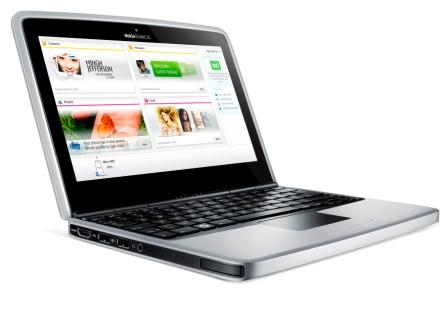 So, is this another "me too" product from Nokia, long after the first two waves of netbooks have come from Taiwanese electronics makers and then "A-brand" PC makers?
The main difference I can spot is that the device will come with A-GPS as well as HSPA built in. Both are great in expanding the "connectedness" of netbooks, which until now, have just been low-cost PCs for surfing on the go.
To add to this, there is Nokia's Ovi suite of software and services thrown in, but I'm not sure the PC crowd really need to use Nokia applications on a laptop other than Music Store. The question here is how compellingly the apps are integrated into the experience for a mobile user.
Interestingly, too, the Booklet 3G comes in an aluminium case. Sure, it's lightweight. But unless you get really thick aluminium sheets, the metal is not the hardest around and could bend and warp. We'll have to see the actual unit to be sure.
The most interesting question is why Nokia is doing this. All its previous adventures into new areas – from the ill-fated N-Gage "game deck" to services like Nokia Maps and Music Store – have been about selling more phones.
Sure, the Booklet 3G will sync "seamlessly" with Nokia phones using Nokia's apps, but surely, I can sync my Windows Mobile phone just as well since the mini notebook runs Windows.
Many questions remain, like how much it will cost and when it will hit the shelves. We'll have them answered next month when more details are unveiled at a Nokia show-and tell.
One thing's for sure now: if the Booklet 3G costs as much as a full-powered laptop – that is, upwards of S$1,300 – it will have a tough fight against the likes of Asus UX30 and HP Pavilion dv2.