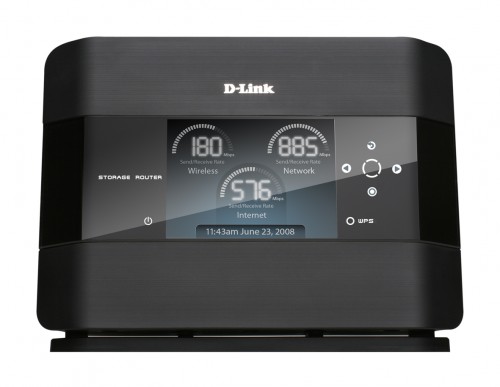 Even for the most hardcore users, you'd think that the ultimate router is one that has a gigabit WAN port and an OLED screen like D-Link's Xtreme N Duo DIR-855.
Well, the company has just topped that by coming up with a router that also acts as a digital photo frame, as well as a network attached storage (NAS) device. Bar the kitchen sink, the new Xtreme N DIR-685 probably has almost all the features in a consumer router.
D-Link Singapore has just said that the S$399 "desktop-design" router will debut at the Comex computer show here next month.
So, what do you get for that sky-high price?
The Wireless N router will come with a 3.2-inch LCD screen that streams pictures as well as information such as weather and financial news from the free FrameChannel service. Of course, you can also show off gauges like download speeds on screen, if you are the type who needs to know how fast your torrents are downloading without firing up your PC.
Is the screen really a big plus? Well, no, unless you place your router in the living room or somewhere in the apartment where the photo frame would be a nice touch. I just can't be bothered looking at the small router screen if I am sitting in front of a 24-inch PC screen (trust me, I have a DIR-855).
More attractive is the DIR-685's  full-featured network attached storage (NAS), which lets you snap on a 2.5-inch SATA hard drive by the side for quick sharing among computers in the network.
Surprisingly, the NAS functions include ones you'd find in full-featured NAS boxes. You get FTP to share your files with friends over the Net, a BitTorrent client to download directly to disk (so you don't have to keep your PC powered on), as well as a UPnP server for streaming your videos to networked PCs or game consoles.
Not a bad number of features, I must say. So, this combo will surely attract those who want a NAS, but are worried about setting stuff up. In this case, D-Link user-friendly menus should help get you up to speed in no time.
If you have use for all these features, okay, then S$399 might seem fair.
But don't forget that you can get the components separately – a Wireless N router (S$100), photo frame (S$60) and a NAS (S$200) – for slightly less (S$360). And unlike with the DIR-685, you don't have to worry about them all breaking down at the same time.