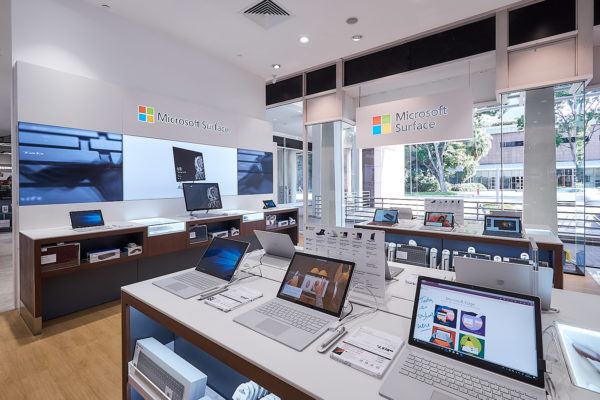 Microsoft is selling the Surface Studio in Singapore, along with a full lineup of devices such as the recently launched Surface Book 2 and Surface Laptop, at a new store opened today in the country.
Housed within the Harvey Norman electronics store at Millennia Walk, it is the first such outlet in Southeast Asia. It isn't as fancy as other stores by, say, Apple but for folks looking to buy Surface devices, this will be a belated but positive move forward.
For many years, the only Surface device available to users was the Surface Pro. And even then, it often came months after it shipped in other markets such as the United States. With the new store, Singapore users can at least hope for faster launches in future.
Among the current lineup, the Surface Studio will likely grab the attention of many shoppers. Featuring a large 28-inch screen that can be tilted down to act as a digital canvas, it is also packed to the brim with the latest hardware.
Expect an Intel Core i7 chip, 32GB of RAM, an 128GB solid state drive (SSD), a 2TB hard disk and a zippy Nvidia GeForce GTX 980 graphics chip for creative work, or simply to fire up the latest PC games.
The bad news is it comes with a hefty price tag of S$6,488. Costing that much, it would cater to a niche audience seeking the PC's unique flexibility. Or those with deep pockets and for whom money is no object.
What Microsoft will sell more of are the Surface Book 2 convertible laptop as well as the Surface Laptop, a competitively-priced, straightforward machine for the average corporate user on the go. Both were launched in Singapore in the past two months.
Microsoft may not say it openly but the new devices will likely put pressure on its PC partners such as Dell, HP, Lenovo and Asus, which will compete for shoppers' attention on the shopfloor. For users, however, that's not such a bad thing.