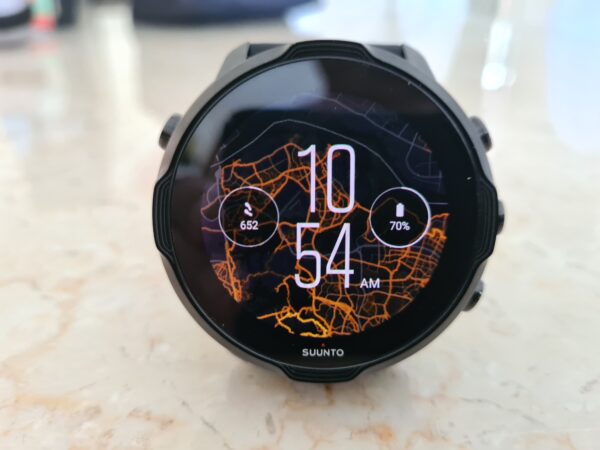 I've always viewed Suunto watches as rugged gadgets for serious athletes, so when I had to chance to try out the Suunto 7, I was hesitant. I was worried I wasn't worthy.
Well, after trying it out for my jogs, I can tell you I don't care if I'm fit to wear this somewhat oversized watch. It feels good on the wrist and delights with its smart features.
Let's start with the large 1.39-inch screen. Yes, it feels a little large on my wrists, but when you're jogging and have a tired-looking face, an oversized watch is the least you care about.
That's partly because the Suunto 7 is great to have on. A thick, hefty frame made of polyamide is protected by a stainless steel bezel and accompanied by metallic buttons. It feels premium, without that cheap plastic sensation many smartwatches give you today.
The included silicon strap is also soft and comfortable, yet practical in that it contours nicely around your wrist.
It holds the watch snugly without needing you to tighten too much during a workout. Yes, it's a simple thing but Suunto's experience as a fitness watch maker shows here.
Of course, as a smartwatch that uses Google's Wear OS, the Suunto 7 comes with the smarts you'd expect. You connect via Bluetooth to your phone to get your calendar, messages and calls on your wrist. You can even control media from your watch when you tire of your phone.
Yet, people will buy the Suunto 7 for being a great workout companion instead of its smartwatch features.
For example, the large OLED screen is big and bright. It's excellent for showing you things like distance, pace and heart rate clearly while you're on the move. Yes, even in slight rain when I was out jogging once during this monsoon season.
While other smartwatches have touchscreens that often get awkwardly hard to use when wet with sweat or rain, the Suunto 7 keeps working fine. It feels like a watch built for the elements.
Well, at least the elements I'm used to in my regular jogs in the neighbourhood park in Singapore or the swimming pool for the occasional few laps.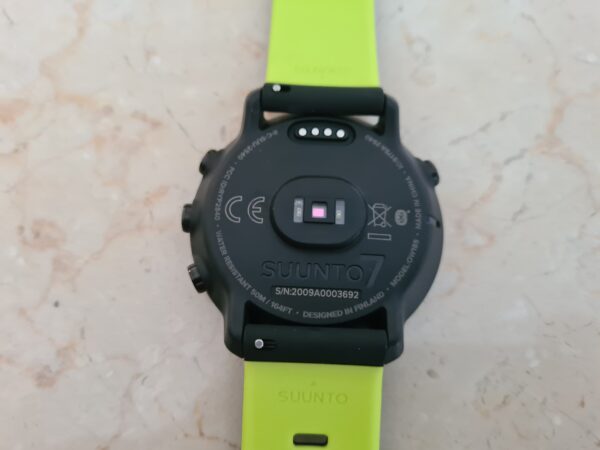 I like it that the screen stays on when you set it to track your run. In low-battery mode, the Suunto 7 is able to show you all the information on the move, unlike other smartwatches which quickly and annoyingly blanks the screen to conserve power.
Though the Suunto 7 supports more than 70 sports modes, including surfing, the Finnish company is a brand known for hiking. So, it's no surprise the new watch supports GPS, Glonass and Galileo for tracking.
To be sure, it's great to have your location found in a matter of seconds by the satellite navigation system. This means you can start your workout without waiting so long for the watch to get a lock on your location. This is a big plus.
Another is the generously-sized screen, which is large enough to fit a full-colour map. So, if you are ever wondering whether you are starting at a certain location, you can check it on the screen.
Speaking of that, the tracking is pretty accurate as well. A regular route I take, which is 5km long according to Google Maps, was accurately captured on the watch as well.
To be sure, the interface takes a little getting used to if you are new to Wear OS, but once you get the hang of things, you'd be swiping through screens in no time.
With Google support, you can easily upload your workouts onto popular platforms such as Strava, though you can also use Suunto's own fitness app to keep track of your activities.
Either option is great, so this is really down to personal preference and where you've been active on most of the time. The Suunto 7 should work with what you regularly use.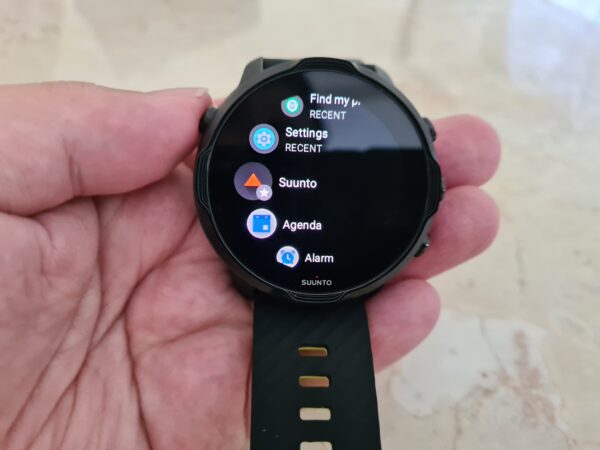 What I am a little unsure of is the battery life. Suunto promises up to 48 hours of smartwatch use but don't forget this includes a low-power mode which only shows you the time and doesn't let you interact much with it.
With the GPS tracking mode, the battery life can be down to 12 hours, so make sure you juice up your watch if you're going for a really long hike around Singapore.
I guess that's the trade-off for having the powerful Qualcomm Snapdragon Wear 3100 platform as its engine. Yes, it offers a buttery smooth interface when scrolling through the menus on the screen, but you might not want to keep the screen on all the time outside of a workout.
That said, on the whole, the Suunto 7 is an excellent companion for your workouts. It's a proper watch made for that purpose, with the smarts thrown in to support it.
What will make the Suunto 7 less attractive is its price. Costing S$749, it is certainly not cheap for a smartwatch. Yet, it is a well-made one that any jogger, swimmer or hiker should have a look at.