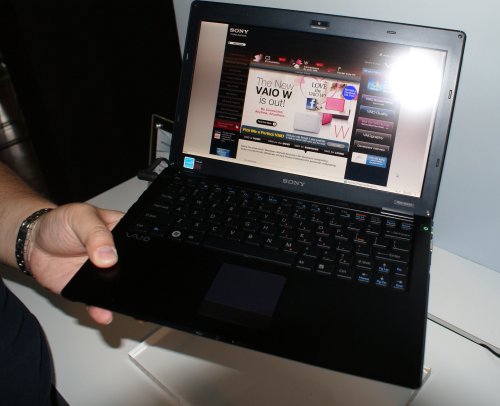 It's not called the "thinnest and lightest Vaio" for no good reason.
The Vaio X,  Sony's shiny new Atom-based netbook, went on display today, as the Japanese electronics maker took the wraps off its Fall 2009 lineup of Vaio PCs globally.
At the Singapore launch, Techgoondu managed to get a quick hands-on with the much-awaited Vaio X, which is one of the most eye-catching netbooks this goondu has seen so far.
The Vaio X has a girth of just 13.9mm – so thin that you have to flip open a small latch to expose the entire Gigabit Ethernet port (yes, it's built in and doesn't require you to bring an additional dongle).
Weighing just 655g for the lightest of the three Vaio X models, this is one machine you will easily forget that you are carrying in your hand – it's really almost as thin and light as a paper file.
The nice thing is that it doesn't warp. The carbon body, which Sony says encases a one-sided motherboard, holds its shape even if you hold the netbook at the edge and let gravity drag it down. There is no warping despite the thinnest of metal sheets, even when you're holding it by the 11.1-inch screen.
This machine is not gonna be cheap, though, when it hits the stores later this month – presumably when Windows 7 launches.
Sony did not disclose prices, but the X series comes with either 128GB or 64GB SSD (solid state drives), which will blow prices through the roof. Current netbooks start from as low as S$599, but clearly Sony and others (Nokia, for example), have seen a market for "premium" netbooks (I think the women get it, and some men!).
Another thing to note: the new Intel Atoms, in the shape of Z550 and Z540 should enable more horsepower than the older, sluggish Atoms, for the next bunch of thin and lights. Also, Windows 7 is key: it doesn't suck up as much resources as Vista does, so netbooks will be so happy to run on it.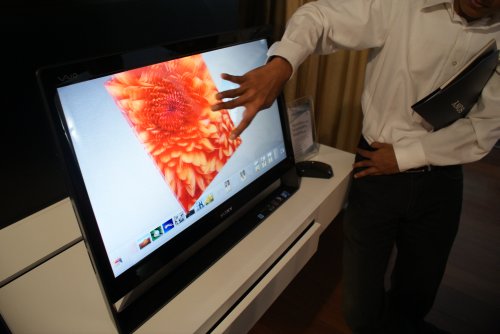 Besides the star product, Sony also showed off new CW and NW series of what I'd call "mainstream" laptops. It also displayed a somewhat disappointing Vaio L touchscreen desktop using Windows 7, whose multi-touch functions on the 24-inch screen will need to improve much to match HP's earlier Touchsmart offering.
But it's safe to say, the Vaio X is the netbook to look out for this Christmas season. It'd be a good seller, after the disappointingly small screen and slow performance of the old Vista-laden Vaio P netbook.
[nggallery id=14]