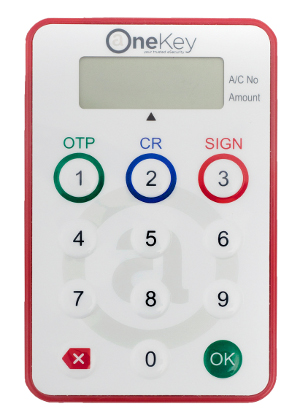 Amid a rising trend of online fraud and identity theft, the Singapore government has mandated that banks have to put in place a two-factor authentication (2FA) platform for electronic transactions since the mid 2000s.
But that wasn't enough.
As part of our national iN2015 IT masterplan, a national security framework was conceived for 2FA to be extended across more services.
And thus Assurity, a wholly-owned subsidiary of the Infocomm Development Authority of Singapore (IDA) was born. Assurity showed off OneKey, their national e-security 2FA device, at a blogger session this week.
The service was officially launched in December last year.
The idea is that instead of having multiple tokens for different online services, you can have "more secure online services and access multiple services using just one security device", said Mr Chai Chin Loon, COO of Assurity, who was at the blogger session.
The most interesting thing about Assurity is that it is not a profit-driven company.
According to Chin Loon, Assurity's mandate is to build up widespread adoption of the security device in Singapore within a 5-year timeframe. In fact, the first security device is free to Singaporeans. Subsequent devices — either replacement ones or ones for foreigners — are charged at S$11 each.
It's not free for businesses who sign up for use of the OneKey 2FA infrastructure though. Besides some integration costs, each successful transaction would be charged "at a very low cost of less than five cents," said Chin Loon.
In fact cost was one of the key drivers for IDA to run their own non-profit subsidiary. When they first called for a tender from external IT vendors, the costs were "sky high" — more than 30 to 40 cents per successful transaction. Thus, it was decided it would make more sense to run this in-house instead.
For now, three companies have started to use OneKey — Philips securities, Kim Eng securities and ST electronics.
Chin Loon is looking at three sectors to grow adoption: the finance industry, especially stockbroking and insurance firms; government e-Portals (like SingPass); and the healthcare industry.