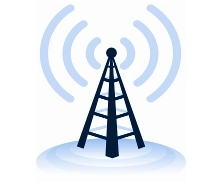 If you sell applications or services, you cannot afford to ignore telcos — they will become the IT channel of the decade, displacing typical IT hardware and software vendors.
So said Adrian Ho, program manager for telecom and managed services at research firm IDC. He was speaking last Friday, 16th April, at the annual Asia Pacific IDC Directions conference held in Singapore and around the region.
The main reasons? Telcos own the networks in which IT operates, and there is a trend of progression towards cloud services. Add the two together, and telecom carriers are well positioned to "seize the opportunity" in this service oriented era and become the "pre-eminent" IT channel, said Adrian.
"Networks have become intrinsic to a lot of large scale enterprise initiatives," he said. And telcos own the infrastructure — the large bandwidth and data centres — that make the cloud paradigm possible.
IDCs own research and data shows the growth of telcos muscling into the IT services area, and their projections into the future: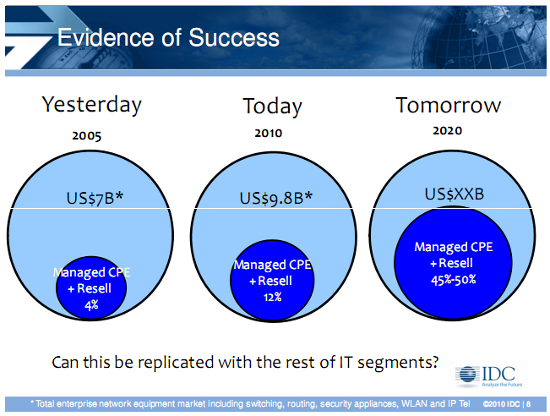 Right now telcos are being used for a relatively small part of the IT services stack, according to the latest IDC telecom perception survey (see results below), but Adrian believes that this will grow.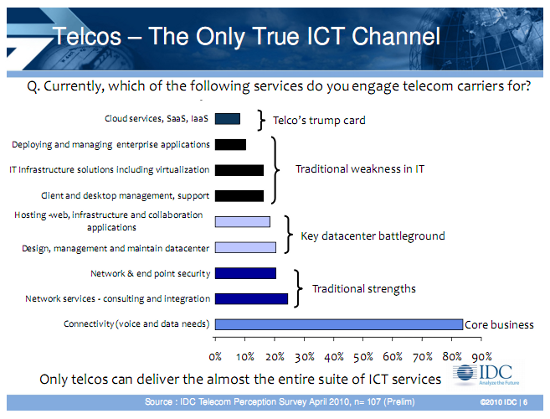 Eventually telcos will become the only ICT services providers that can deliver end-to-end, because, again, they own the network — telcos can guarantee the network resiliency critical to enterprise applications.
"Telcos will win the cloud war," predicted Adrian.
What does this mean for typical hardware and software vendors? Expect channels and IT vendors to reorganize themselves around the telcos as the main go-to partner of choice when delivering services through the cloud.
According to Adrian, about 95 per cent of telcos in Asia Pacific will launch applications as a service platform by Q1 2011.
The rise of mobile clouds
At an event like IDC Directions, one can scarcely walk around without talking about clouds, which seems to be the de facto hot topic of choice. Even in the mobile or security space, clouds dominate.
I sat in for a presentation by Bill Rojas, the research director for communications at IDC, and he believes that the future for telcos will be in the mobile cloud space.
Traditionally, consumer ARPU (average revenue per user) for telcos have been flat for much of the last decade, but this might change with mobile clouds as telcos find ways to monetize applications usage for mobiles.
Mobile clouds is driven by a few trends:
Data consumption trends. Smartphones consume far more data — by a factor of about 5 times, according to IDC stats — than non-smartphones. No surprise that telcos love this and are pushing smartphones in developed markets!
Applications on the go. People want to download applications whenever and wherever they want to, and the rise of Apple's iPhone Store proves that platforms who exploit this will work. And with a slew of competition coming along the way — Nokia's OVI, RIM BlackBerry's AppWorld, and Google's Android are some examples — consumers will be spoilt for choice.
More powerful smartphones. Our smartphones are less the phones of yesteryear than almost fully fledged computing devices — there are plenty of new phones that have 1Ghz SnapDragon processors. Right now the iPhone does not support multi-tasking because the processor is probably not up to scratch, but eventually Bill predicts that a multi-tasking iPhone will appear on the scene.
Faster wireless speeds. 4G is definitely going to be a reality. Be it 3GPP's LTE (Long Term Evolution) or WiMax, the trend is for consumers to crave faster mobile broadband speeds, and telcos will provide this. The choice of telcos using which standard depends on spectrum availability, of course.
Machine-to-machine communication. As a journalist, I have heard buzz about this as far back as the mid-2000s. But with computing devices and bandwidth not being technological bottlenecks (i.e. both plentiful and cheap), machine-to-machine communication, where wearable devices talk to each other, becomes viable. And if it happens, you will really see data explode — and telcos will benefit.
Of course, with the rise of mobile clouds there will be tradeoffs and consequences. For example, you won't hear talk of green IT — another very current meme about consolidation, virtualization and cost-efficiency more than about Mother Earth — in the mobile space. Mobiles consume five times more power than a landline, according to Bill.