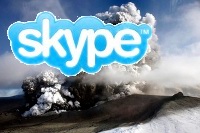 The ash clouds from Icelandic volcano Eyjafjallajökull have created air travel chaos all over Europe for the better part of almost a week and a half.
Things seem to be clearing up over southern Europe (for now), but if you're one of the few unlucky ones still stuck in a transit airport or hotel around the world, at least here's one small consolation: Free internet Wi-Fi access!
Skype is waiving internet access charges for Skype Access until the end of the week so that travellers can surf the net, check their email, and make free Skype-to-Skype calls at over 100,000 WiFi hotspots in airports and hotels worldwide.
From 1200hrs GMT on Wednesday 21st April to 2359hrs GMT on Friday 23rd April (0700hrs Saturday 24th April Singapore time), Skype Access will be completely free to use. Typically, Wi-Fi access is charged per minute using Skype Credit.
Skype Access is powered by Boingo through WiFi hotspot operators around the world, and a complete list can be found here.
And well, if your wedding plans are scuppered by the travel disruption, don't fret. You might be inspired by what this couple did, and throw a wedding bash via Skype!