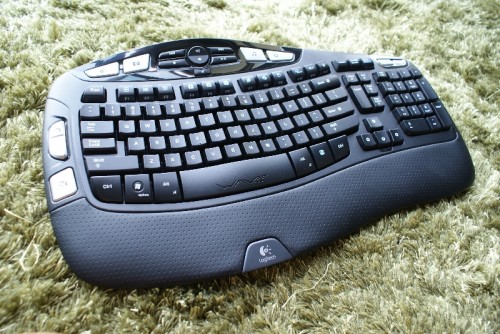 I've been wanting to swap out my old Razer Tarantula keyboard for a while now, seeing how the lettering is all gone, and I sometimes have to second-guess where the right keys are. I finally did that yesterday with a Logitech K350 wireless keyboard.
Now, you may think I'm downgrading from a performance gaming keyboard to just another boring wireless typepad. But for me, it's more like switching to something that suits what I do now, which is, sadly, 95 per cent typing e-mail and articles and 5 per cent games.
Sure, the Tarantula was big and impressive. But the lost paint on the lettering aside, I always preferred quiet and soft keys. I'm not your mechanical keyboard lover who misses the "clik-clak" on his old IBM compatible, so I'm not going for something like the SteelSeries mechanical keyboards.
At the same time, I'm not sure I ever needed the Tarantula's anti-ghosting features that let a gamer press several keys at once without freezing the keyboard (my ageing reflexes play a bigger part in my character getting whacked online). The most important keys I'm going to use now are A-W-S-D, paired with my trusty Razer DeathAdder mouse in Battlefield: Bad Company 2.
And no, I don't want ultra-thin diNovo from Logitech either, because of a lack of depth in the keys, which always makes me feel that I am typing on a really cheap piece of plastic.
In the end, I settled on a wireless yet "semi-ergonomic" keyboard. The Logitech K350 is a little curved (Logitech calls it "Wave"), yet is not the full-blown version like the Microsoft Ergonomic series.
Having used the excellent Microsoft Ergonomic Keyboard 4000 in my last job – I had bought it to hook up to my office-issue laptop after suffering from a slipped disc – I was tempted to buy one again.
But in the end, I thought I wanted to finally give wireless a try. Logitech promises up to three years of battery life on the K350 (I'll update you when the battery runs out). And it comes with this Unifying USB transceiver that's no bigger than a dollar coin, yet can connect up to six devices.
This means that I can easily hook up another Logitech wireless mouse in future by just pairing it using the included Unifying software (I'm eyeing the Performance Mouse MX, but I haven't gotten over the heaviness of these critter for gaming).
To be honest, the finishing on the K350 keyboard is not top-notch or as polished as S$100+ rivals. But for S$75 (S$4 discount from friendly folks at Cybermind), I think it's a pretty good deal.