Top racing drivers like Lewis Hamilton can race around the track at over 300km per hour. Driving skills aside, it is the aerodynamic shape of the car, like the way the wind flows around it and how it handles around the bend, which substantially contributes to the speed of the car.
"The name of the game today is speed," said Dr Andrea Pontremoli, the chief executive officer of Dallara, an Italian company founded in 1972 to design racing cars.
"It is really changing a lot of our economy and our way of working because every car wants to win, so we need to innovate rapidly too," he added.
The sports car design company has turned to supercomputing technology to ramp up its innovation capability.
A supercomputing cluster enables Dallara engineers to optimise a car's aerodynamic contours which involves deciding its shape and then running simulations and testing in wind tunnels.
The company is using a NeXtScale cluster running Lenovo nx360 M5 compute nodes, which are two-socket systems that run Intel's Xeon E5-2600 processor and a software-defined storage solution running on Lenovo System x3650 M5 servers.
The setup also includes a V3700 V2 storage system and RackSwitch G8052 1/10 Ethernet switch. The entire packages runs on Red Hat's Enterprise Linux operating system.
Lenovo worked closely with Dallara to produce the cluster. Per Overgaard, executive director of Lenovo's Data Centre Group, said it worked to provide the cluster according to Lenovo's specifications. "They gave us the specs, their idea of what they wanted to do, and we put together the cluster."
Dr Pontremoli said that the supercomputer allows the company to work on a new design from a concept on paper to car in just nine months.
This is critical because eight months are spent on the car's concept including designing, testing, simulating, collecting data and reiterating the process until an optimised racing car is completed.
In the process, billions of data points are collected and crunched by the supercomputer which can run aerodynamic features like computational fluid dynamic (CFD) models with 300 million cells in just 2.5 hours. Previously, this took five hours.
The supercomputer can also now run several simulations simultaneously, so that different teams and departments do not need to wait to run their analyses.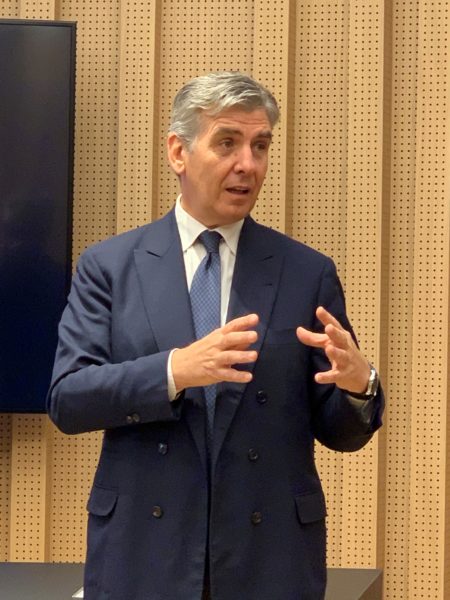 "High performance computing is important. Everything that we do is based on one key item, that is, the only way to be innovative is to have the possibility to make mistakes," Dr Pontremoli emphasised.
"We can't be novel if we do what we only know," he told a group of journalists last week at Dallara's headquarters in Varana de Melegari, Parma, which is about two hours by car from Milan.
"To do something new, we've to accept that we will make mistakes, and the only way to make these mistakes without going bankrupt is through technology," he added.
Besides, the company cannot build so many real cars for testing because that would take too long and cost too much.
"We've no time to test the car, we go directly from simulation to production, because we trust the simulation," said Dr Pontremoli.
Lenovo entered the HPC market when it acquired IBM's server group in 2014. It re-focused this enterprise business on data centres, building a portfolio of compute, storage and networking hardware and services. Technologies such as artificial intelligence (AI), Big Data and blockchain are often included in the systems.
It has been successful in this new market, supplying 174 supercomputer centres in the Top500 list of supercomputers.
Spread throughout the world, its installations include the Leibniz Supercomputing Centre located near Munich, Germany which is the ninth largest supercomputer in the world.
The iconic Barcelona Supercomputing Centre – located in a retrofitted church in the Spanish capital – also has Lenovo equipment as well as several service providers in China.
Lenovo's supercomputing business is expanding in part because it is using commodity-based components like Intel's Xeon chips in its HPC servers. This means more affordable pricing for its customers.
Dallara may be unknown to sports car racing fans. But if they have watched Formula 1, IndyCar, Nascars and other races then they would have seen Dallara's technology in action. The company works with Masserati, Ferrari, Bugatti, Porsche and other top marques in the sports car racing circuit.
Its work focuses on designing and producing cars that are lightweight by using carbon fibre composite materials; aerodynamics through the use of wind tunnels and 3D modelling; and sports car design.
It defines the behaviour of a new design by leveraging its supercomputing capabilities to drive simulations and analysing data taken from the wind tunnels.
"We estimate that out of 100 percent performance of a sports car, 15 per cent is contributed by the engine; 35 per cent by the weight and 50 per cent by the aerodynamics. Dallara works on the aerodynamics and weight, which means we are responsible for 85 per cent of the performance," said Dr Pontremoli.
Critical to the development process is simulation which supports the aerodynamic development. The HPC together with AI software let engineers accelerate the simulation process as well as find new "behavioural" patterns.
Dr Pontremoli explained: "We have one billion cells that we use to divide a car, more cells mean that cells are smaller and we can get more precise."
"Let's assume that in a Formula 1 car which has one billion cells, and we need to do a calculation to try to understand that behaviour of the car given the shape that we've designed," he added.
"Then let's assume we changed, the front wing, but the front wing will also interact with the rear wing and the flow underneath the car, and all the air flows, so you start the calculation from zero, from scratch," he noted.
"Meanwhile, there are some parts of the calculation that will be the same as the previous one, but we don't know which, so we use AI to recognise a common part," he said. "So, instead of doing the entire calculation, we do what has changed and we keep what is the same."
Gian Parlo Dallara, the founder of the company, has poured all his 50 years of expertise into his dream car, the Dallara Stradale, which is both a sports and road car.
Production started late last year at the rate of one to two cars a week. Only 600 will be produced as Dallara does not want to compete with its racing car customers.
Every week, about 300 Dallara-designed cars compete in racing circuits around the world. The data collected from these cars and races adds to its knowledge base which it then leverages to design new cars.
This knowledge base is being used as Dallara expands its business into a consultancy, providing services to other industries like industrial packaging systems and light weight material for aerospace industry.