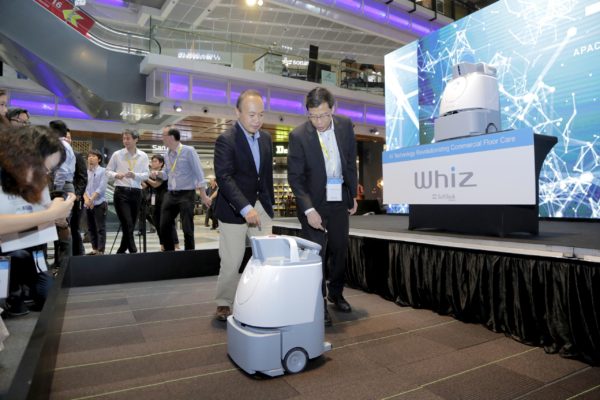 Facility managers of shopping malls, airports and big office buildings can now "rent" a robot to clean their facilities for S$499 a month, plus a S$100 maintenance fee.
Provided by Japanese firm Softbank Robotics, the robot cleaners will be the first to be available in Singapore as a robot-as-a-service.
Called Whiz, the robot can clean up to 1,500 square metres, or the size of three basketball courts, for three hours on a single battery charge. The battery can be swapped for continuous operation.
In-built sensors function as collision detection system, allowing the robot to go around obstacles and avoid people. It is also able to sense distance. Whiz can be used to clean carpets and hard flooring.
The smallish robot, about a foot high, is built to be easy to use, according to Softbank. Its artificial intelligence-embedded software can store up to 600 routes. Whiz robots can be networked so that routes can be shared with other robots.
Data collected from its routes will highlight new obstacles or hard-to-access areas where janitors can provide more effective cleaning. The cloud-stored data can be accessed on mobile app which also allows building owners or facility and cleaning managers to access status reports.
Singapore is the second country to have the Whiz service, after Hong Kong. At the launch in Singapore today, Kenichi Yoshida, executive vice-president and chief business officer of Softbank Robotics said that Whiz will boost efficiency and productivity.
Two hundred proof-of-concept trials undertaken in seven cities in Asia have shown improvements in efficiency and productivity for floor care, he added.
He explained that with Whiz, the cost of floor care, that is, cleaning the floors, will drop to S$300 a month, down from S$1,350 per month when a janitor is used.
Household cleaning robots have been available for several years. Time-starved consumers have used automated vacuum cleaners like iRobot Roomba for household cleaning.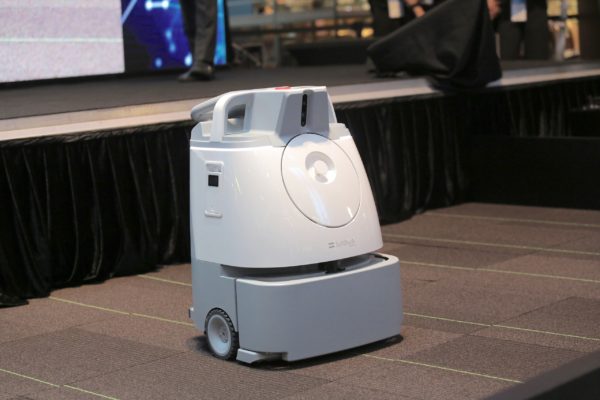 Softbank Robotics is best known for Pepper, the first robot it launched in 2014. Produced in a stylised form of a person, it can recognise faces and basic human emotions. It was first used in Japan for customer service roles like receptionists and concierges.
Yoshida said the company acquired an artificial intelligence (AI) company called Brain Co several years ago. Brain's software which was used for autonomous vehicles now powers Whiz.
Lee Chin Yau, Softbank Robotics' chief operating officer for the Asia-Pacific region, said that the Whiz is easy to use.
"A cleaner can walk Whiz through his or her cleaning route once," he said. "From there on, Whiz will remember the route and it can clean on its own."
Since Softbank Robotics' opened its office here this year, it has been in talks with various building owners, facility managers and cleaning companies. Response has been positive although it has not signed up any customers yet, said Lee.
Singapore is also the company's Asia-Pacific headquarters. Yoshida said it will expand to China, India and other countries from here.
He admitted that it will be more difficult to show cost savings in countries where labour wages are low. "So our basic strategy is to go to developed countries where costs of labour are high."