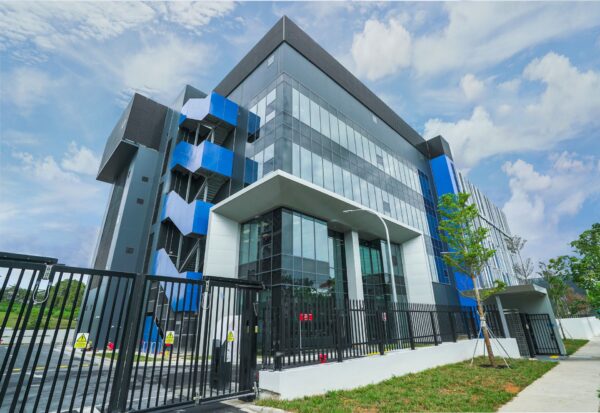 Digital Realty today opened its third and most sustainable data centre in Singapore, a five-storey, 50-megawatta facility that brings its investment in the country to over US$1 billion since its entrance here in 2010.
Called Digital Loyang II or SIN12, this is the largest of the company's data centres here. It has been pre-leased to local and global financial institutions and cloud service providers and leading Southeast Asian enterprises, according to the company.
It will also introduce next-generation co-location services for regional customers in Singapore, it added today. The new facility was opened by Desmond Lee, Singapore's Minister for National Development, in a virtual event.
Construction work on SIN12 continued despite travel restrictions and onsite work disruptions caused by Covid-19. Digital Realty, together with its main contractor Straits Construction, had to not only complete the project but to meet environmental benchmarks in three ways, said Lee.
First, a common data environment was used to facilitate the tighter integration of the entire construction process, allowing the project consultants and contractors to collaborate and work on the building design during the COVID-19 pandemic, when much of this work had to be done remotely.
Second, it built more resiliently, said Lee. SIN12 leveraged Design for Manufacturing and Assembly (DfMA) technologies to build more productively by using precast concrete and prefab mechanical, electrical and plumbing (MEP) systems, which allowed construction work to be moved off-site.
"This resulted in at least 30 per cent productivity improvements when compared to traditional, manpower-intensive construction onsite," said Lee.
All of the precast concrete components were also sourced locally. "Taken together, this allowed SIN12 to complete construction on time, and not be as affected as many other firms by shortages in manpower and materials due to COVID-19 border restrictions," Lee added.
Third, Digital Realty built sustainably, by incorporating environmental friendly features that resulted in SIN12 being over 30 per cent more energy efficient than the industry norm. SIN12 has attained the BCA Green Mark Platinum certification for data centres. 
Digital Realty chief executive officer, William Stein, said in a media statement that SIN12 underscored the company's long-term commitment to support the country's digital economy.
"The transition to the digital economy has impacted the way companies across all industries create and deliver value," he noted. "There's a growing need for a combination of open interconnection and next-generation colocation that will reduce the complexity of digital transformation."
"Expanding our footprint in Singapore will enable us to better help our customers enhance their digital transformation efforts and scale their digital business models regionally as well as globally," he added.
SIN12 will be among the most sustainable data centres in the region as well, with a power usage effectiveness (PUE) of 1.25. It will feature efficient cooling system design and controls to help minimise evaporation losses and improve water-use efficiency. 
Turbine generators rather than diesel engines have been installed and a combination of uninterruptible power supply (UPS) and lithium-ion batteries will facilitate sustainable management.
SIN12 is sited next to the company's existing Digital Loyang I or SIN11 facility, in the eastern part of Singapore, close to the Changi North Cable landing station, a key subsea Internet hub for the region.
SIN11 and SIN12 are connected by fibre cables, enabling customers in both facilities to connect directly via dark fibre cross connects and to access numerous network and service providers. These two facilities are also interconnected to the company's SIN10 or Digital Jurong data centre.
Within the Asia Pacific region, Digital Realty operates a rapidly expanding network of data centres located in Singapore, Hong Kong, Tokyo, Osaka, Seoul, Melbourne and Sydney. The company is expanding quickly in the region with new data centre projects in Indonesia and South Korea as well.
Globally, the company has 275 data centres in the world.
UPDATE at 07/09/2021, 9:41am: The story has been updated to include comments by Desmond Lee, Singapore's Minister for National Development.