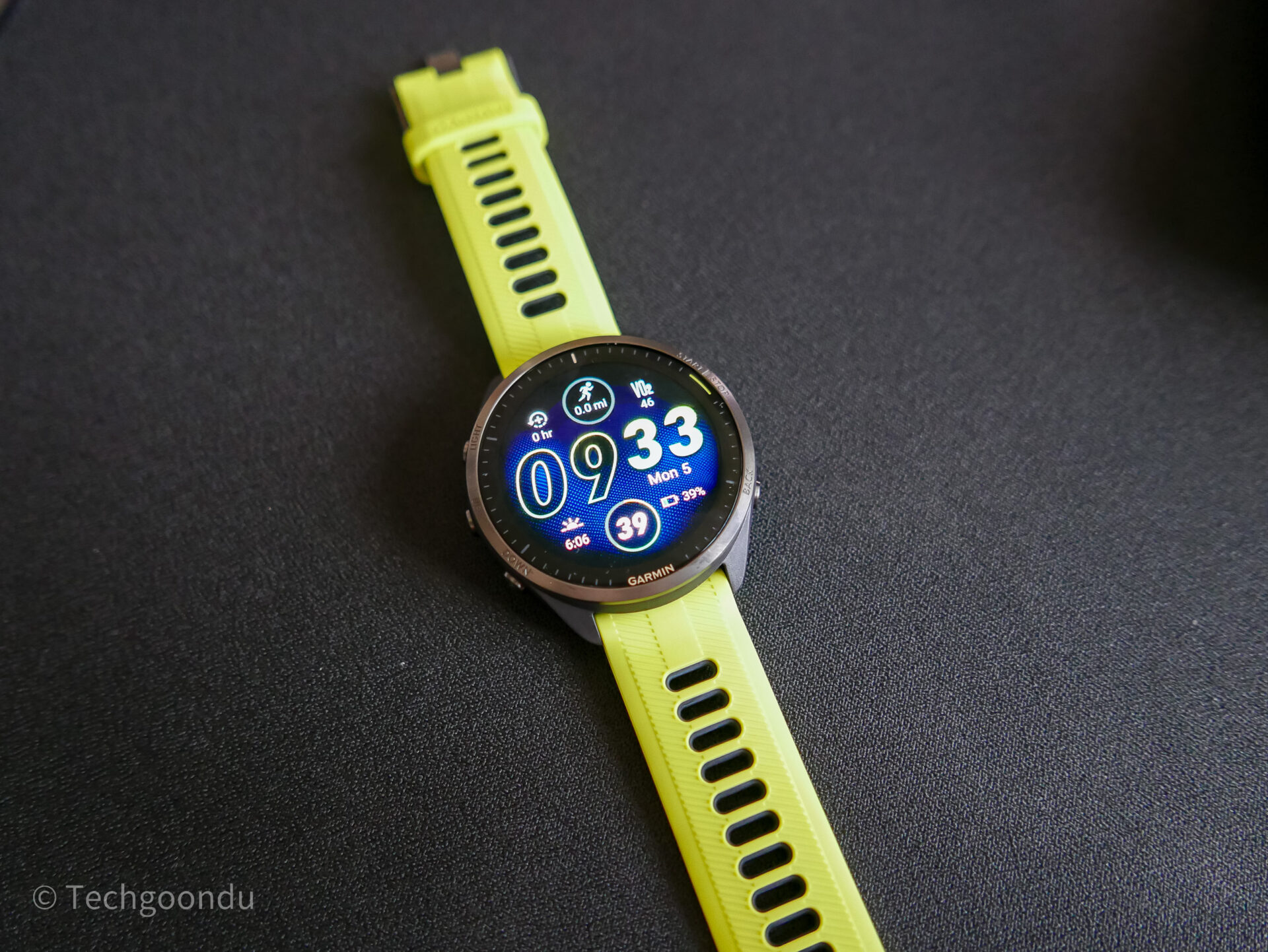 Putting on the Garmin Forerunner 965 on the first time, you'd be forgiven for thinking it's a little bit too big and clunky for many an Asian wrist.
The 47mm watch face certainly feels large on my wrist, which is used to a max of 42mm for most automatic watches, but then again, this is a serious fitness watch.
No, nothing like those dainty fitness trackers that are more for wellness and casual sports people. The Forerunner 965 means business because you can be sure to get all the details of your workouts, from running to swimming to kayaking, right on the large, bright screen.
If you've used a Garmin watch before, the interface isn't difficult. Even for someone who's unfamiliar, the various buttons on either side aren't hard to get used to.
A start/stop button gets the watch ready to go when you want to kick off a session. A back button helps you get back to the previous menu, while others let you navigate menus and control the lighting on the screen.
Speaking of that, the screen is one of the biggest attractions of the Forerunner 965. The 1.4-inch AMOLED display is bright, sharp and highly legible, partly because of its size, of course, but also with the right information density.
During a jog, you get your most important details like distance and time clearly visible. The screen keeps on throughout the workout, which is a great help if you're regularly tracking your progress.
The onboard multi-band GPS is also quick to acquire a lock, which helps you get started more quickly. Outside my home, I even found a few spots where the tree cover wasn't as dense and where a lock-on was easier to achieve in mere seconds.
Again, it helps that Garmin has a progress meter in terms of getting a fix so you don't wait or walk around aimlessly waiting for the GPS to be ready.
The distance is also pretty accurate. I jogged around my neighbourhood park and measured the distance on Google Maps, which was close to what was tracked on the fitness watch.
It helps too that the watch itself is loaded with maps, so you can actually see where you've run to by peering at the small screen. It's a bit of a struggle, yes, but things are still visible if you can't wait to get home to check your progress.
For swims, you need to set the distance of each length of the pool so it can track your workout successfully. Unfortunately, the max you can do here is 99m, which is good enough for most pools but may be just short of some long ones you may encounter, say, at a resort or an unusually shaped condominium.
Here is where I encountered a slight glitch. For some reason, details of a swim I had recorded often couldn't be shown. Whenever I tried to see the details, the watch seemed to restart itself. Other workout details seemed fine.
One thing I like is that the watch asks you how you feel after each workout, so it helps to remember whether it was a strenuous one or, literally, a walk in the park.
This is independent of measurements such as Vo2 Max, which should give an indication of how taxed you were after a workout. Perhaps you're the kind who can maintain a max heartrate for your age group for most of a workout.
The Garmin fitness watch tracks a whole lot of many other workouts, including triathlons or open-water swims for the seriously fit, though it is a joy to use even if you're just wearing it to a quick jog or swim.
It helps that the watch is built well and feels sturdy in different environments, something a true fitness watch should offer.
I wore the Forerunner 965 in my jogs in the park around my home and also on a trip to Bali, where I swam with it several times (in a pool), and I never felt worried that it couldn't stand up to the elements.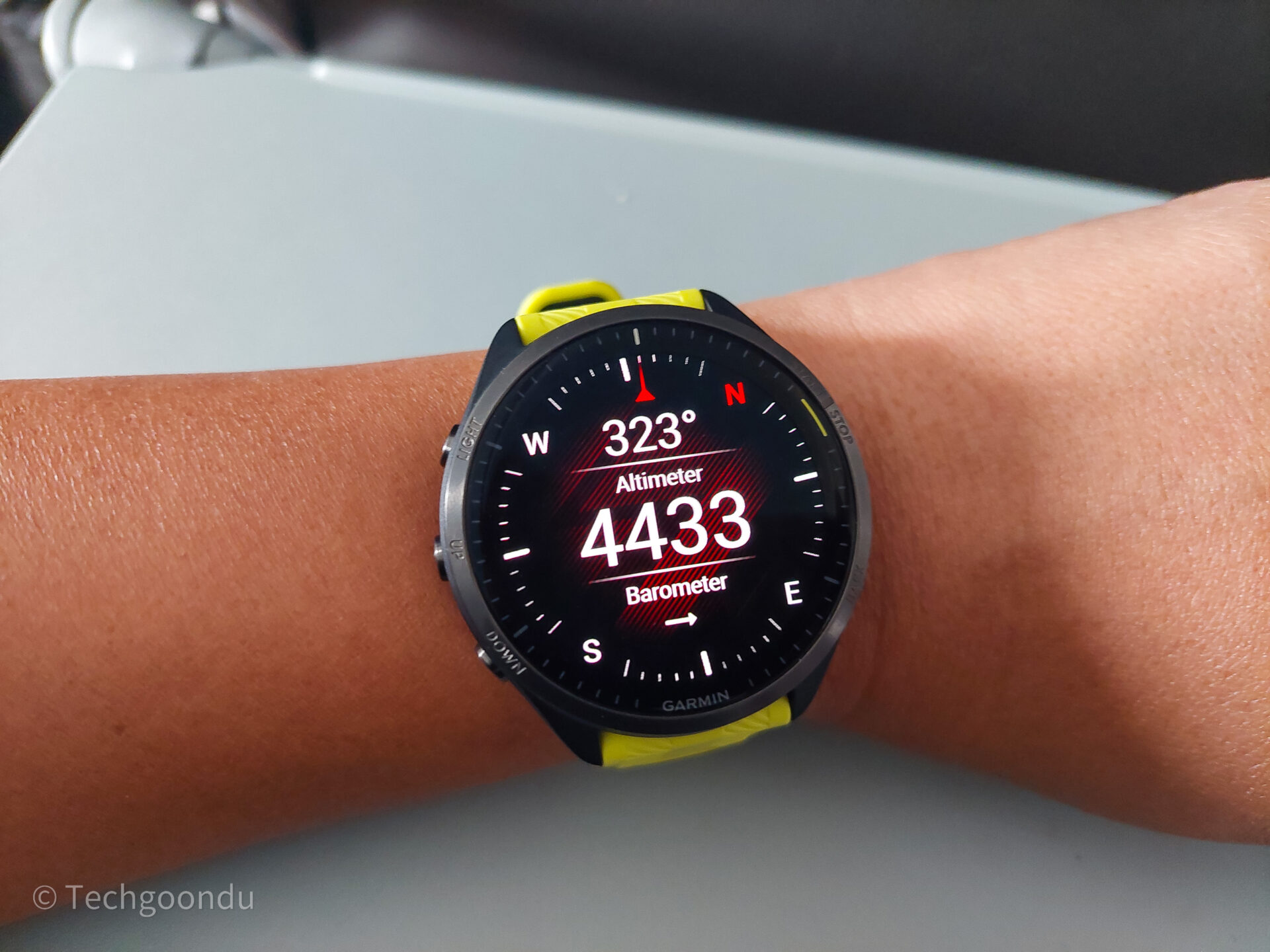 The main unit is encased in tough looking plastic that is protected by an attractive titanium bezel and Gorilla Glass. Garmin has kept the watch relatively lightweight at 53g, but still feeling sturdy enough to endure rough knocks on the go.
The rubber wrist band is also soft and comfortable to wear, though it gets a firm grip of your wrist and keeps stable without chafing at your skin.
Perhaps most impressive for me is the battery life, which is longer than many a fitness watch or lifestyle smartwatch I've used.
Despite its large screen, the Forerunner 965 can last days easily, unless you are keeping the screen on all the time in a full-day workout.
I left my home for a five-day trip to Bali recently with the watch having 75 per cent of battery life and returned to Singapore with just under 50 per cent of juice left. That's after wearing it constantly for swims and walks on the holiday island.
To be fair, I didn't fire up all the extra features – you can store music on it and stream it to Bluetooth earphones or track the weather via a connection to your phone – so your mileage might vary.
However, Garmin does promise 23 hours of usage on the Forerunner 965 in smartwatch mode, plus up to 31 hours on GPS (without music). So, there's a lot of juice here for crazy long workouts, say, long hikes or triathlons.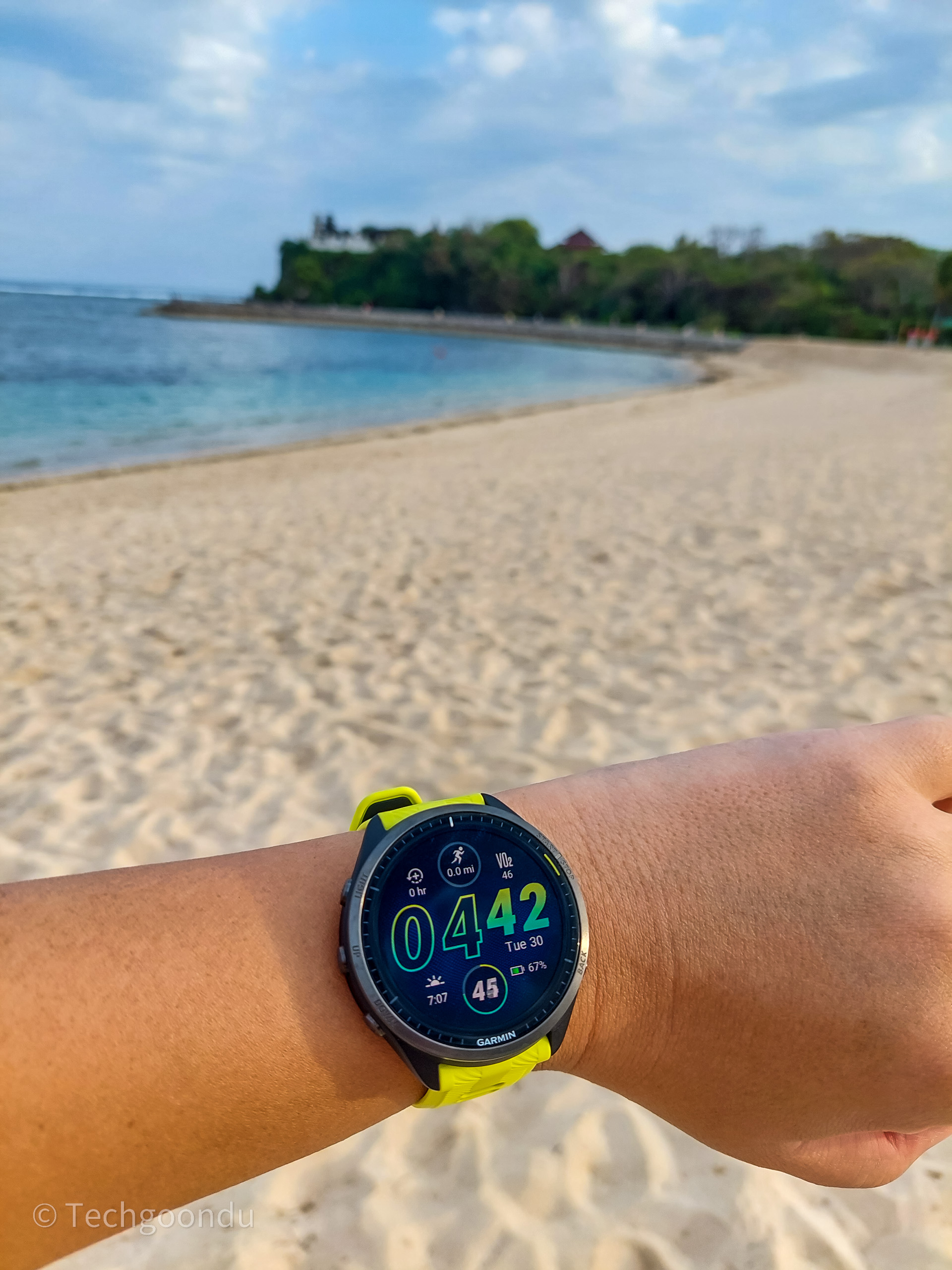 Is this watch more suited for the seriously fit, then? Well, it certainly will meet many of the needs of users who train seriously and want a high-performance companion that keeps up.
Triathlon and multisport profiles that are built in, for example, let you get ready for a competition by training regularly. Training status is also tracked on the watch, so you know how well you're recovering and whether your training has been peaking or strained.
That said, the new Garmin watch works well for even those who just wish to have a jog or swim regularly. Its excellent battery life and large, bright screen make it a great fitness watch, on the whole.
Perhaps what may put off the less serious fitness buff is the price. At S$919, the Forerunner 965 doesn't come cheap for its advanced features, which will be prized more by those who work out more frequently and train harder.