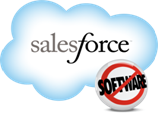 Barely has Salesforce.com's social networking tool Chatter been launched — exactly three months since their launch date of Chatter on June 22nd — and they are pushing out Chatter version 2.0 out already.
According to an announcement by Salesforce.com last night, the upgrade consists of a "re-architecture" of all Salesforce.com's apps to use the social networking capabilities of Chatter.
What you get in the "new" Chatter are more analytics and dashboards, easier ways for users to find conversations, and a desktop-based software version (if you hate using browsers to connect to the web, which is strange for a cloud solution!). Extensions to mobile platforms like Apple's iOS, Android and Blackberry will be available late this year or early next year.
What's more interesting, of course, is how Chatter is priced: it's free for existing users of Salesforce.com CRM or Force.com users, or US$15 per user per month otherwise. Salesforce.com's CEO Marc Benioff touted in the press release that more than 20,000 customers have deployed Chatter (now version 2.0), which is of course a no-brainer: I'm guessing it's mostly existing customers, and therefore free.
I'm not really surprised that Chatter is free, because it makes sense. If you put a price to it, you'll be compared to all the free social networking tools out there with a far bigger universe of users (e.g. Facebook or Twitter). Social networking tools is also a great way to defend your turf: Get customers to stick to or recommend others to try the platform. There's a growing bunch of cloud-based CRM competitors like Zoho and SugarCRM that has followed in the footsteps that Salesforce.com has trailblazed. Salesforce has to keep an eye out on these even as they move on to bigger fish like Microsoft and IBM.