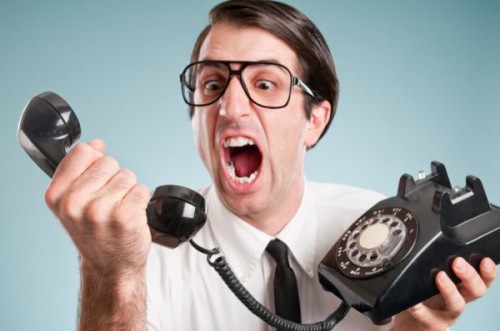 After years of being spammed by irritating SMSes to buy a house or insurance policy, Singapore consumers will finally be able to say no to these messages with a data protection law passed for the first time yesterday.
They can add their names to a national Do-No-Call list, up by early 2014, which will tell telemarketers not to send marketing SMSes or call them to peddle bank loans and the like. 
Companies will have up to 18 months to comply with the new system, after the new Personal Data Protection Act comes into effect from January 2013.
If they send an unsolicited message or make a similar call to consumers who are in the Do-No-Call list, they can be fined up to S$1 million for each offence and S$10,000 for each offending message or call.
Unlike e-mail, such calls and SMSes are very hard to filter out, said Dr Yaacob Ibrahim, Minister for Information, Communications and the Arts, in Parliament yesterday.
In a lengthy debate, he addressed several MPs' concerns about the limitations of the new law. Yet, despite several rounds of discussions since last year, issues still remain.
1. Doesn't apply to government
The new law doesn't apply to government agencies, which Dr Yaacob said, already have their own data protection rules. Understandably, it would have been a huge effort to make sure the government complies with such tight rules whenever they have to access citizens' data. You won't want five agencies to be asking for your consent every single time when you transact with the government.
But what happens when these agencies run marketing campaigns?
In 2002, a Singaporean wrote in to the Straits Times Forum page, asking how the Social Development Unit (SDU) had known his particulars right after his return from several years abroad. Turned out that the Ministry of Defence, which had kept his details as an NSman, had shared them with the SDU.
What happens when government agencies use citizens' data in ways that they feel are helping the citizen? Should the Land Transport Authority (LTA), for example, send petrol discount vouchers for certain pumps stations to drivers registered in its database? Would that be considered unsolicited mail or just a nice gesture from the government agency?
It is unclear if consumers have the chance to opt out of such schemes and only correspond with government agencies for official matters.
Worse, with their own customer databases now so strictly scrutinised, will private companies now try to work with government agencies that are exempt from the same strict rules?
2. E-mail and snail mail are excluded
Dr Yaacob rightly said that unwanted e-mail are a lot easier to filter out with spam filters these days. As a result, they are not considered under the new law.
What cannot be filtered out, however, are flyers and mailers that get stuffed into mailboxes every day along with your mail. Consumers cannot say no to such junk mail and they waste time sorting through flyers from the neighbourhood childcare centre from important mail every day.
Why can't people say no to spam on their physical mailboxes the same way they say no to spam on the phone? Both are daily annoyances and time wasters and both cannot be filtered out easily without wasting your time doing so.
In fact, if someone dumped a pile of flyers on your doorstep, he may well be seen as littering. Yet, when the mail man drops a load of unsolicited brochures, it's considered legitimate.
Spam like this has to be kept out of people's mail boxes, as part of the data protection law. Otherwise, it could be transferring a problem from one medium to another. Desperate insurance and property agents will just stop calling and start sending junk mail.
3. Calls from overseas
Thanks to cheap Internet calls, marketing firms are now calling you from overseas and there's a limit to what Singapore's new law can do against these firms.
The question is whether some of the direct marketing firms currently based here will then move overseas and continue their operations there to sidestep the new law. They can still call you from there and there's little you can do to stop them, despite having your name in the Do-Not-Call list.
Going forward
The data protection law is a positive move forward, after years of complaints about unsolicited calls and SMSes, which annoy to no end. Yet, there are limitations that should perhaps be addressed before the Bill was tabled.
It's still a long way from 2014, when consumers can finally sign up on the Do-Not-Call list. Thankfully, things have started moving, and that's more than what's been done at any time previously.