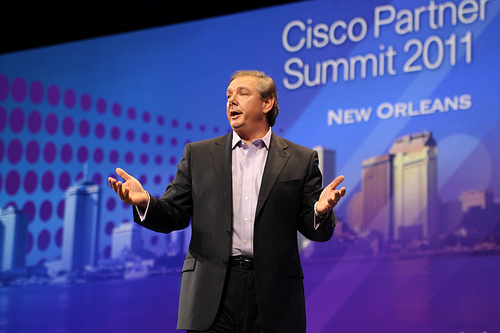 Cisco's Edison Peres, senior vice president of worldwide channels
To tackle the multi-billion dollar cloud market, Cisco will create new channel initiatives to help their partners sell the cloud jointly to customers.
At the Cisco Partners 2011 Summit in New Orleans this week, Cisco unveiled their upcoming cloud partner program, which will help partners decide what role they want to play and what business models to adopt in the Cisco cloud ecosystem.
Cisco's Edison Peres, senior vice president of worldwide channels, said: "Cisco doesn't want to be a cloud services provider. We want to enable our partners to become the [cloud services] providers."
The Cisco cloud partner programme will create three tracks that their partners can go with: cloud builder, cloud provider or cloud services reseller.
The cloud builder track is for partners who design and implement cloud infrastructures, whether they be public or private clouds. Partners need to be certified competent in three aspects: infrastructure, management and professional services, all which require validation criteria from Cisco or other technology vendors in the ecosystem.
For example, under infrastructure there is a storage competency that requires the partner to have EMC, NetApp or Hitachi certification.
The cloud provider track is for partners who want to offer cloud services directly to the market and the cloud services reseller track is for those wanting to white-label the services of these cloud providers.
The advantage for partners to go through this certification process is that they get branding, reference architecture support, financing help, and market development funding.
Said Harry Zarek, President and CEO of Compugen, a Canadian IT services company, who was at the event as a reference partner during the press conference: "The cloud partner program is an opportunity to have a safe playground to build out services."
Tech analyst Venu Reddy, who is vice president of SMB-focused research firm AMI, was less bullish: "Of course it is a smart move by Cisco. Cloud is something they have to do, and it helps them segment the ecosystem and sell cloud."
He added: "But are they building anything new or moving ahead in the game? Not necessarily."
The Cisco cloud partner program is slated to be launched globally in Q4 2011. Research firm IDC estimates the cloud computing market is currently US$1.6 billion, but this will swiftly grow in the years ahead.
Improving partners' ability to sell
In addition to the unveiling of the cloud partner program at the event, Cisco is also launching a new consulting service targeted at partners: Cisco's collaborative professional service. This consulting service aims to help partners improve their professional services capabilities to sell IT architectures.
A library of mainly pre-sales services, the collaborative professional service currently contains 30 business services in its portfolio.
These 30 business services span all major Cisco technologies like collaboration and data centre virtualization, and include services like assessment, guidance and development, and providing best practices. Prices range from as low as US$2000 to US$8000 for a one-off assessment, to as high as US$35,000 for a customized development specification.
"We definitely are not engaging in consulting with customers here," said Cisco's Karl Meulema, senior vice president for Cisco services, soothing fears that Cisco would cannibalize their partners' competencies. "We just want to drive our partners through the [pre-sales] cycle faster."
Cisco estimates that the total addressable services opportunity created by Cisco technologies is expected to be US$41 billion in 2011. As Cisco only addresses less than 20 per cent of this space, there are ample opportunities for partners to take up the slack.
According to Cisco, who ran a 40 pilot trial with several partners for this new service, they estimate that the time taken by partners to setup a practice was reduced by 30 to 40 percent when taught best practices. A 20 to 25 percent efficiency improvement was noted when partners asked for guidance or design help.
Said Compugen's CEO Harry, who was one of these pilots, on why he thought the service made sense: "The reality of building your own intellectual property is that it takes a long time. Besides, the fees that Cisco charges are low enough or at market rate. It allows us to get to the market quickly, which is important."
Cisco's collaborative professional services will be available globally in Q3 2011, and will eventually expand to include cloud builder services (from the cloud partner program) later that year.