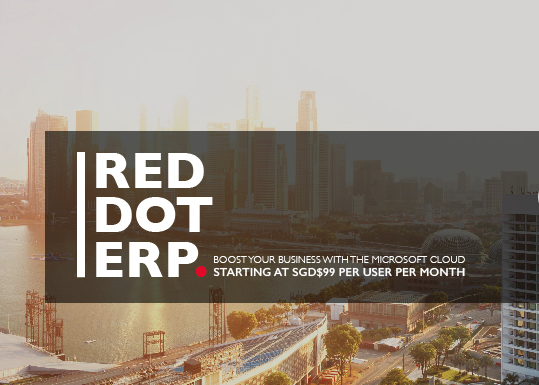 A group of Microsoft Dynamics partners in Singapore have banded together to offer Red Dot ERP, a suite of business applications targeted at small and medium-sized enterprises (SMEs) in Singapore.
The cloud-based software package, put together by IBIZ Consulting Services, MSC Consulting, DP Technology and SaaSplaza, is based on a seamless integration between Microsoft's Dynamics NAV enterprise resource planning (ERP) software and Office 365.
So, besides the usual slew of Office apps, SMEs will also have access to accounting, customer management and sales invoicing tools, SharePoint and Skype for Business, among others.
Gerald Leo, director of small mid-market solutions and partner group at Microsoft Singapore, said Red Dot ERP will provide SMEs with a one-stop service by integrating Microsoft Office 365 and Microsoft Dynamics into a seamless software-as-a-service offering that is cost-effective and secure.
"Through this, SMEs will be able to access enterprise-grade capabilities that will allow their employees to do their best work wherever they are, and connect with their customers to build profitable customer relations through better business intelligence," he said.
Leo also put any concerns that SMEs may have over cloud security to rest.
"In the past, businesses were hesitant about transitioning to the cloud, fearing that their data would not be safe. However, Microsoft has recently achieved the highest level of certification (Level 3) for the Multi-Tier Cloud Security Standard for Singapore for Azure and Office 365, as well as Level 2 for Microsoft CRM Online," he said.
Red Dot ERP is now available through www.reddoterp.sg for S$99 per user per month.