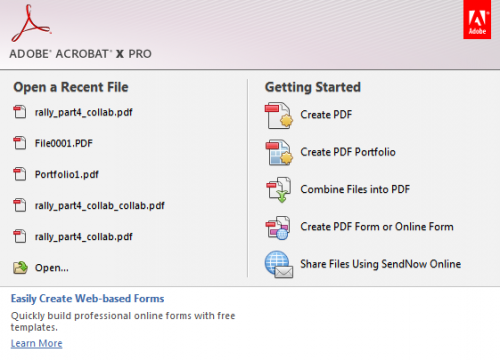 The venerable Portable Document Format (PDF) is usually the final format that you would use for casting documents in stone. With Adobe Acrobat X Pro, you can now edit your PDF documents and even collaborate with others.
I last reviewed Adobe Acrobat 7 several years ago and the software has come a long way. Besides letting you convert Word documents and scanned images into PDF files, Acrobat X Pro now sports collaboration features, form data collection and a cleaner user interface.
One of the first things you will notice about Acrobat X Pro is a better organised menu that puts commonly used features within reach. When you first launch the program, a window with a list of common tasks shows up to make it easy for you to get started on your PDF files.
Once you get into the software, you'll see a large Create button on the top left corner of the screen that lets you create PDF files from existing content including Web pages, Office documents, images and AutoCAD files, among others. The same button also allows you to combine multiple PDF files into a single PDF document.
In addition, you can also create PDF forms using existing Microsoft Office forms and paper forms. I tried creating a PDF form using a scanned paper form but not every field was captured by the software's spotty OCR system. I had better luck with forms created in Microsoft Word which were accurately captured and formatted.
After the PDF form is created, you can use Adobe's online service, Acrobat.com, to send the form to others through e-mail. You can also send forms using Microsoft Outlook, which unfortunately is the only supported e-mail client for now.
In any case, once your respondents fill out and submit their forms, you will receive their inputs through a separate PDF response document created automatically to collect and display all responses. Note that respondents will only require the free Adobe Reader software to view and submit forms.
If you prefer to use an online form, Acrobat X Pro will direct you to the free Adobe FormsCentral online form service. Forms can be designed with a variety of templates and responses are presented in a spreadsheet table that can be exported as CSV files or Microsoft Excel documents. You can also customise form fields to make certain fields mandatory, or include help text for specific fields to guide those who might not be sure about what you're asking.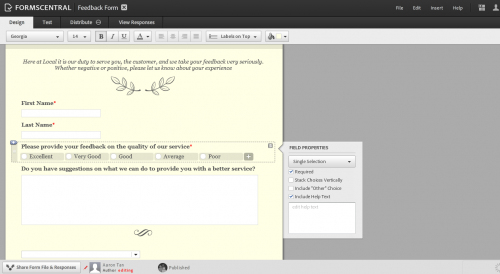 Apart from administering forms, a key feature of Acrobat X Pro is online collaboration. The software lets you send PDF documents and other files to colleagues who can pore over a PDF document in an online chat session. You can also turn on page sharing so that everyone is on the same page.
While I found the chat sessions useful, the software does not support simultaneous "live" editing, since each user is working on his own copy of the same document. An appointed person would still have make the final changes in the master version of the PDF file.
Notwithstanding, Acrobat X Pro offers a way for you to track and synchronise comments and changes from collaborators through a commenting system. You can send PDF documents to others for review and receive their comments, which can be in the form of highlights, rubber stamp messages and text insertions/deletions, among others.
Reviewers will require Adobe Acrobat 9 or Adobe Reader 9 or later to comment on PDF documents. Personally, I prefer collaborative real-time editing – as opposed to a cumbersome comments-based approach – where all reviewers are working on the same copy of a PDF file hosted on the cloud.
Acrobat X Pro also lets you create PDF portfolios comprising PDF and Word documents, images, webpages and even entire file folders. Portfolios can be used to showcase your work to potential employers or serve as a record of your key achievements in performance reviews. You can arrange your portfolio content based on different layouts, themes, colours and backgrounds. Like other PDF files, you can also send share PDF portfolios with others through e-mail.
Interestingly, Adobe has also slipped in a screen sharing feature that lets others view your desktop or application windows, which comes in handy for presenting information online.
Bottomline: Adobe's latest iteration of its Acrobat software is a welcome upgrade for those who collaborate on PDF documents. The streamlined menu interface also makes it easier to use now compared to earlier versions of the software.