The world's third largest PC maker Lenovo is doing a big makeover with its brand as it pushes more aggressively into the consumer space.
To achieve this, it is the tech sponsor for Fashion Night Out, a global shopping extravaganza initiative that is in its third year.
Showing off their latest IdeaPad U300s Ultrabooks at the glitzy fashion event, Lenovo hopes to increase their brand awareness amongst consumers.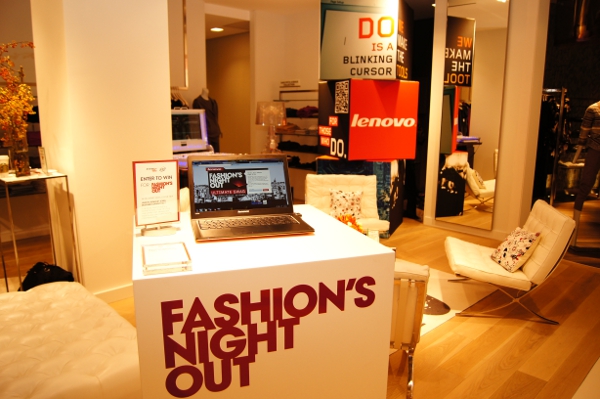 With brand recognition currently hovering around 12 percent in the US, according to Nick Reynolds, Lenovo's executive director of integrated product communications, Lenovo has much more room to grow as a brand.
"We have great engineered products, but it's sad that not that many people know about us," he said.
Hence, the big marketing blitz on their new IdeaPad ultrabook, which Lenovo hopes will be a halo product that changes consumer perceptions about them.
Lenovo's Ideapad U300s: First impressions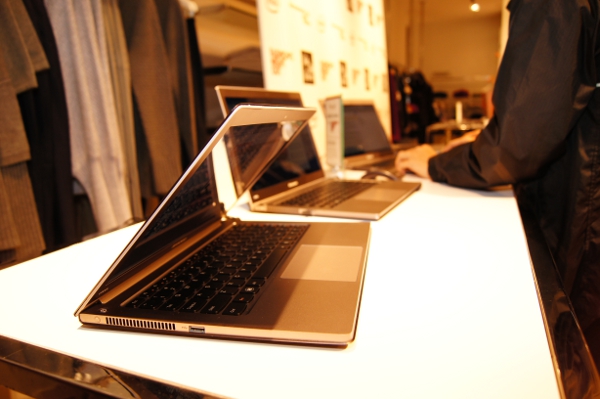 I got a good hands-on impression with the Lenovo U300s Ultrabook at the New York City Fashion Night out event, which Techgoondu went to.
The first thing that drew me in was the form factor. The sleek single-piece aluminium shell — available in both graphite grey or clementine orange — is really gorgeous.
With a thickness of 14.9mm (1.5 cm), weighing slightly over 1.3kg, and with a 13.3 inch HD 16:9 widescreen display, the U300S Ultrabook is one super swee (i.e. beautiful, in Singlish vernacular) machine.
There are no vents at the bottom of the Ideapad U300s, unlike most other laptops. All the air that cools the machine exits through the side vents and the back hinge. Not only does this make the machine look super sleek, users can use the machine on their laps for extended periods of time and it never gets hot.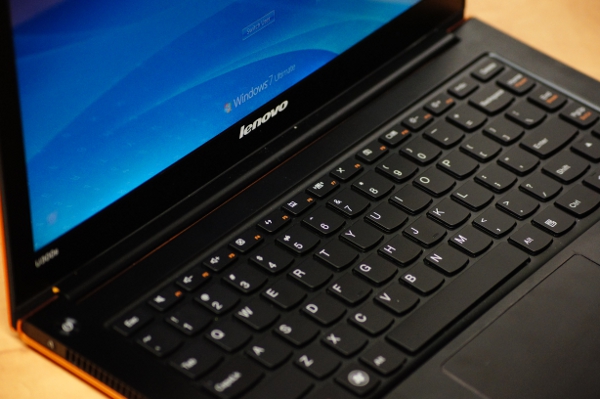 The machine takes in air from Lenovo's patented "breathable" keyboard technology. The keys of this keyboard – which feels great tactilely – are slightly raised to allow air to enter and cool the system down.
Specs wise, the IdeaPad U300s seems to be pretty good as well, including an Intel Core i7 processor, a RapidDrive hard disk (a hybrid SSD and hard disk drive) that boots up Windows 7 in 10 seconds or less, and a long-life battery housed within the chassis that lasts up to eight hours of continuous use.
The Lenovo RapidCharge power charger is sleek and small as well, and is touted to be able to charge up to 50 percent capacity in just 30 minutes.
It seems like Lenovo is really banking on the Ideapad U300s to crack the high-end super-thin laptop segment, which was a space pioneered by Apple's Macbook Air in 2008.
Not any longer, with many consumer PC makers shipping sleek Intel Ultrabook devices this year in Q4, like Lenovo's Ideapad U300s, Toshiba's Portege Z830 and Acer's Aspire S3.
The U300s isn't a sub $1000 device, which Intel originally intended the Ultrabooks to be. Still, the U300s is more than competitively priced with the Macbook Air at US$1149 based on specs. If you're looking for a high-end chic laptop, it's definitely worth considering.
The IdeaPad U300s will be available in Singapore and in the region sometime in October this year.
Techgoondu will be giving out two of these beauties in a contest in October/November, so do watch out for that!
All photos here are courtesy of fellow Singaporean consumer lifestyle blogger Superadrianme. Big thanks to Adrian for letting Techgoondu use his photos when my handphone shots suffered from technical failure. 🙂