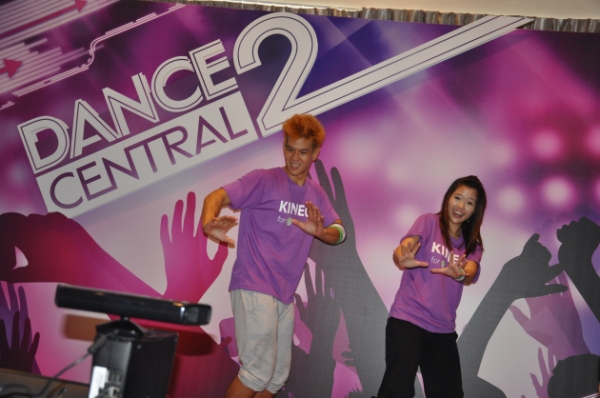 This holiday season, get ready to flail your arms around in front of a TV, as Microsoft releases several new titles for its wildly popular console accessory Kinect.
Well, some of them are not exactly new.
Like game makers are wont to do, two of the new games are basically old games slapped with a new number behind it with some additional features. Not that we're complaining, some of these additions are quite noteworthy.
Take Kinect Sports: Season 2 (S$59.90, available 25 October), for example. The game features 6 new sports – tennis, golf, American football, baseball, skiing and darts – and varies between team-based and individual sports. Plus, some games make use of the in-built microphone in the Kinect, such as calling an "audible" in American football.
On the other hand, we're not sure if anyone outside of the US actually cares about American football.
The weirdness of not actually holding on to any balls, golf clubs, darts and other sporting equipment quickly fades as the games are rather immersive. Team play is particularly enjoyable, and the game will no doubt be a hit at parties.
Also joining the "Version 2" club is Dance Central 2 (S$59.90, available 21 October), the hit dancing game which gives us geeks some tips on grooving before hitting the night clubs. A new twist in Dance Battle mode lets players "Free-4-All" – quickly performing lots of moves worth tones of points so they can jump ahead in the game.
Also making its debut in Dance Central 2 is an in-game Music Store which lets users buy and download more songs to dance to. But you'll need Xbox Live membership to access the store. Some of your favourite songs still stuck in the first Dance Central? No problem, Microsoft will let you import your library, but you'll have to pay for that convenience.
If you're hankering for some new games, you'll be happy to hear about Forza Motorsport 4 (S$59.90, available 11 October). It's quite a unique racing game which lets players walk around cars in a virtual showroom, crouch down to look at the details, or open doors and hood using gestures.
But if you think racing using invisible steering wheels sounds stupid, you can buy a Wireless Speed Wheel accessory to play with. There's even a limited edition (S$84.90) with more goodies if you have the extra cash.
Last but not least, Microsoft has tied up with Disneyland for Kinect: Disneyland adventures (S$59.90, available 15 November), an interactive game which lets children explore a virtual Disneyland theme park. If your kids are clamouring to go to Disneyland, this should be enough to keep them quiet for the next few months!
Players can run around the park and step into various minigames based on real-life attractions. Hug a virtual princess, high-five a virtual Mickey Mouse, collect autographs, and accept quests!
These quests are actually pretty fun. One, for instance, has you explore Neverland at Peter Pan's side and take up your sword to fight Captain Hook. If you prefer adult pirates, you can also battle your way through Pirates of the Carribean.
Time to sweat it out before hitting that Christmas turkey!