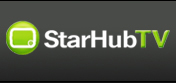 Pay-TV is not cheap in Singapore, so don't forget to tune in when operators offer free programmes every once in a while.
Good news is, StarHub is offering weekly free previews of its channels from early July, before giving an entire week's access to most of its channels on National Day week in August, as part of its 20th anniversary celebrations.
Starting July 6, the pay-TV operator will provide 100 hours of free programming each week, for four weeks. The channels you can expect are:
-Kids and English Entertainment in Week 1
-Asian, Ethnic and International content in Week 2
-Sports, Lifestyle, Education and News in Week 3
-Movies in Week 4
Between August 3 and 10, viewers can get access to all channels, except for speciality ones such as its on-demand channels and Cricket Extra, Neo Cricket, Ten Sports, Horse Racing Channels and Fashion TV.
StarHub's TV operations were originally part of Singapore Cable Vision (SCV), which it bought in 2001. SCV had started operations in 1992, after the Singapore government decided to open up the broadcast industry by giving homes access to their first pay-TV service.
In June 1995, SCV was licensed to operate cable television services delivering up to 50 channels and had 15,000 subscribers. Today, StarHub carries over 180 channels and has over 544,000 subscribers.