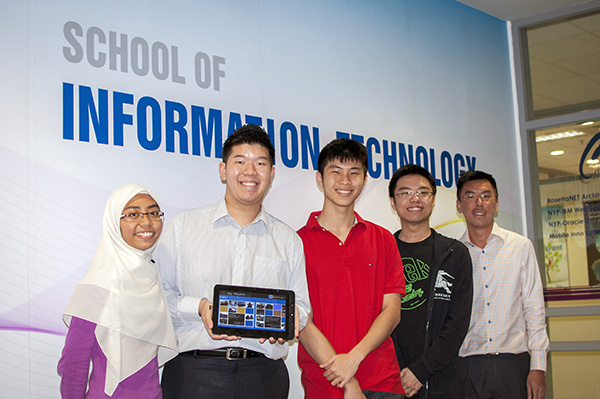 Dementia is projected to affect more than 40,000 people in Singapore by 2015, and a group of Nanyang Polytechnic (NYP) students have developed an early prototype of a Windows 8 app to streamline its therapy process.
Called Dementia Assistance and Recall Engine (DARE), the app functions as a digital scrap book of sorts, designed to assist therapists in reminiscence therapy.
In this form of therapy, patients are shown images, video clips and other forms of media relevant to his personal life in an attempt to trigger his memories and maintain overall mental health.
The treatment is time consuming, and requires therapists to understand the patient's personal history thoroughly while coordinating the submission of photos and videos from a patient's family members.
Furthermore, therapists have to make qualitative assessments from personal observations during the therapy process, since there is no quantitative way to measure a patient's progress.
The group of four students from NYP – three from the School of IT and one from the School of Health Sciences – developed DARE to solve some of the problems associated with reminiscence therapy.
A Windows 8 app with a touch-based interface lets therapists display photos and videos to the patient. At the same time, the patient will wear an off-the-shelf headset that measures his brainwaves.
Through Bluetooth connectivity, the headset maintains an active link with the app, which then records brain activity for each displayed photo and video onto a log.
Therapists can review the log after the session, and plan for future sessions with the information more effectively. For example, if a photo of a birthday party registered the most brain activity, the therapist can make a note to show more photos from the same party in future sessions.
The data is also synced to the cloud, so it can be accessed from any device by the therapist.
The team also plans to develop a more full-featured web-based interface for DARE, where family members can submit more materials and view the therapy progress.
The Alzheimer's Disease Association of Singapore has expressed its interest in advancing the project through clinical trials.
"Because our trials will involve human beings, there is a lot of red tape to go through," said Nur Nadiah Binte Zailani, a third-year student in occupational therapy. "There is also the family members of the patients to consider."
Despite the product being in its early stages, DARE has won its creators the championship of this year's Imagine Cup Singapore, beating 2,700 other students to the top prize.
The team will be heading down to Sydney in July to pit their idea against 350 other students from 75 countries at the Imagine Cup worldwide finals.