Every year in January, makers of cars, notebooks, TVs, mobile devices and other assorted electronic gadgets descend upon Las Vegas, flaunting their latest and greatest wares and soon-to-be-wares in the newest instalment of the Consumer Electronics Show (CES).
This year, the wider choice in OLED TVs is a sign of what's to come, plus a phone sporting the latest augmented reality (AR) features and even a whimsical projector for gamers from Razer.
Here are six of the best from CES 2017:
LG Signature 4K W7-series OLED TV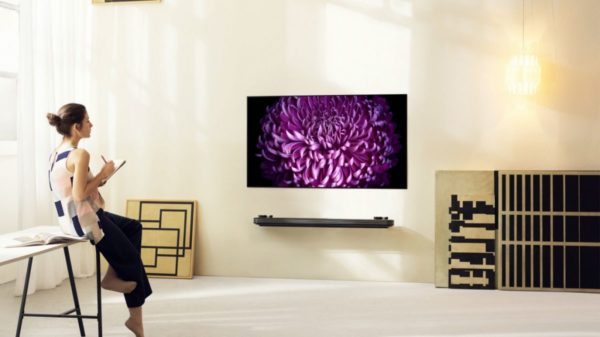 LG has been dominating the OLED (organic light-emitting diode) television scene for a while now, and its new Signature 4K W-series of OLED TVs look set to defend its crown in a year when Sony has decided to make the move to the same panel technology.
The LG W-series is impossibly thin. The 65-inch model is merely 2.57mm thick and weighs just 7.7kg.
It is said to improve on the image quality seen in its 2016 OLED line-up, and supports most of the existing slate of HDR technologies like Dolby Vision, HDR-10 and Hybrid Log Gamma.
Known for their ability to produce bright colours and true blacks that have come to define LG's televisions and Samsung's mobile phones, OLED thrives on the ability to emit its own light rather than rely on backlighting that typical LED panels require.
HDR on television sets expand the colour palette beyond what a typical television can offer. To illustrate, a HDR TV would present a bright sky lit by setting evening sun with shades of blue and orange interspersed amid fluffy white clouds, while a non-HDR set would likely just blow out the entire sky with a bright whitish-orange gradient.
Most of the new LG TV's internals are offloaded onto a sound bar that sits below the display, hooked onto the TV via a proprietary connector. Ingenuity aside, it promises punchier, clearer audio than if LG tried to keep them within the thin confines of the display.
The side effect, however, is that you have to keep that bar around even when you have your own audio system – probably an expected companion with a TV of this price. The TV is also so thin that the only way to install it is to mount it on a flat wall – the W-series OLED does not (and cannot) come with a stand.
The range comes in 65- and 77-inch variants, and are expected to be available for sale by March in the United States. LG is tight-lipped about prices, but there is always the cheaper B, C, E and G ranges if your wallet cannot take the pain.
Sony Bravia XBR-A1E 4K OLED TV
And LG is not the only one doing OLED TVs any more in 2017. Sony appears to be throwing its hat into the arena just as things were getting a little lonely up top.
Sony's decision to turn to OLED panels is a nod to the capabilities of the technology. Its new XBR-A1E TV is powered by its own X1 Xtreme 4K HDR (High Dynamic Range) processor that offers support for Dolby Vision HDR.
Sony's Acoustic Surface Sound technology embeds the TV's speakers into the spaces underneath the panel itself since OLED requires no backlighting. The jury is out on the quality of sound, however.
At least the XBR-A1E does not have to be mounted onto a wall to work –unlike LG's new flagship. Sony has opted to move the TV's internals onto a fold-out stand on its back, an elegant solution to create ever thinner displays.
The XBR-A1E runs Android TV, unlike the proprietary webOS on the LGs. Usual suspects like Netflix and Amazon Prime Video are already supported, while streaming and gaming apps of all assortments can be easily installed via the Google Play store.
No release date nor asking prices were announced, though a launch should not be too far down the road since most announced TVs at the show launch within the quarter.
Asus ZenFone AR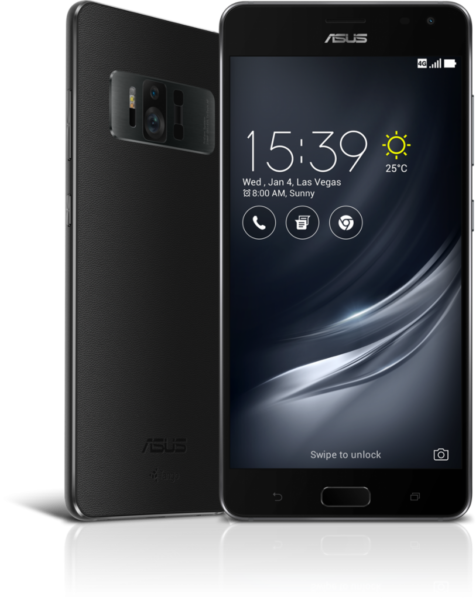 The ZenFone AR is one of the few devices that support both augmented and virtual reality applications (via Google Tango and Daydream respectively) without gaining unnecessary bulk. In fact, the ZenFone AR has only one competitor, the Lenovo Phab2 Pro, which is much heavier.
Asus is going for broke in selecting its components for the ZenFone AR. It features the best of the best available in end-2016, with plenty of options.
There is a 5.7-inch Quad HD (1,440 x 2,560) display reinforced with Gorilla Glass 4, a quad-core Snapdragon 821 processor, Adreno 530 graphics unit, 4GB or 8GB of RAM, and 32GB to 256GB of built-in storage. You can also insert a microSD card of up to 256GB if you somehow find yourself lacking in space.
The phone features a 23-megapixel rear camera paired with a 1/2.6-inch sensor (an 8-megapixel shooter takes care of selfies), together with a LED flash, and depth and motion tracking sensors for Tango support to the sides.
On paper at least, a 3,300mAH battery seems undersized for a device with so much power packed into it, even if Quick Charge 3.0 promises to get the phone juiced up quickly. We're looking forward to testing if the worries are unfounded.
No prices were announced, but the ZenFone AR will be released by the end of the quarter.
Dell XPS 13 2-in-1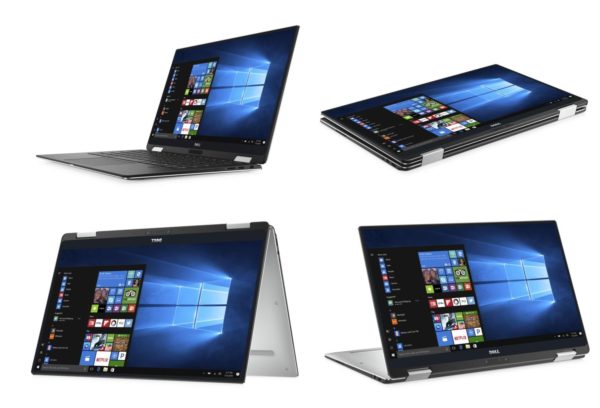 The Dell XPS 13 has received critical acclaim for its ultrathin borders, sharp and bright quad HD display, and a 60-watt hour battery (13-inch ultrabook competitors typically feature 50-watt hour variants) packed into a lightweight yet durable sub-1.3 kilogram carbon fibre frame.
The 2-in-1 variant is a strong competitor in the convertible notebooks category, which has seen growth in the past year as laptop makers continue to refine tablet-cum-laptop form factors while users get used to the idea of owning and using one.
This convertible has retained all the good that the XPS 13 series has been known for, while featuring a hinge that allow the display to be rotated all the way to the back, much like the Lenovo Yogas.
The XPS 13 2-in-1 is not as slim as its ZenBook and MacBook competitors, but it is for the better. The 1.37cm thick chassis (which tapers down to about 0.8cm at the front) houses a backlit keyboard that offers good travel quite unlike those on competing products that barely moves when pressed.
It has, however, picked up the Intel Y-Series "Core M" processors that offers noticeably lower performance than the U-series low voltage variants, in return for better battery life. Dell claims 15 hours of use between every charge, but that remains to be tested under real-world conditions.
The slower processor will be a worthwhile trade-off if the XPS 13 2-in-1 can stand up to day-long usage, and we look forward to testing that when we can get our hands on a set.
The XPS 13 2-in-1 is already on sale in the United States starting from US$1,000, and judging by past patterns, should reach Singapore pretty soon.
Samsung Chromebook Pro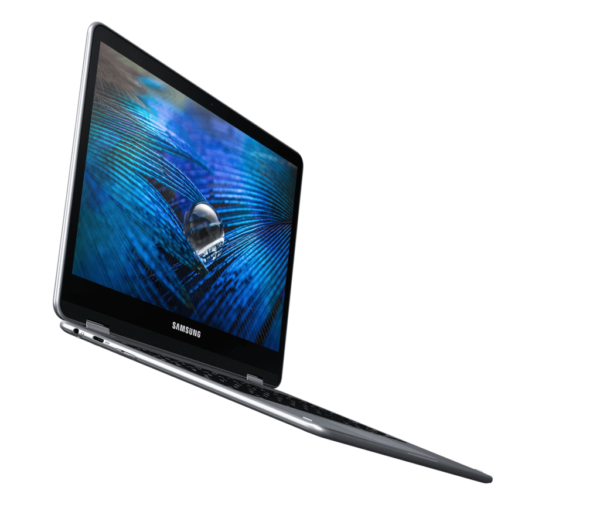 Google is not about to stand about and watch Wintel convertible machines take over the world, of course. The Chromebook Pro, co-engineered with Samsung, is the first to be built to natively support Android apps.
It features a Note 5-looking stylus that slides into its chassis and has built-in ink support. The pen interacts with the 12.3-inch, 2,400 x 1,600 LED screen, which is powered by an Intel Core M3 processor and 4GB of RAM.
The all-metal chassis supports 4K display output, and has 32GB of internal storage that can be expanded via microSD.
The 1.1 kilogram device, like the XPS 13 2-in-1, has a hinge that allows the keyboard to be flipped all the way to the back.
A desktop-level browser (thus the namesake Chrome OS) paired with a mature Android-based Google Play marketplace is Google's way of competing against the Surface Pro and iPad Pro.
Samsung claims 8-hour battery life on the device, which already sounds less competent than a tablet and some ultralight notebooks, however.
The Arm-based Chromebook Plus will go on sale for US$449 next month, while the Chromebook Plus might cost a couple hundred dollars more and arrive at a later date, giving it additional muscle while potentially adding support for legacy Windows-based software in the future.
Razer Project Ariana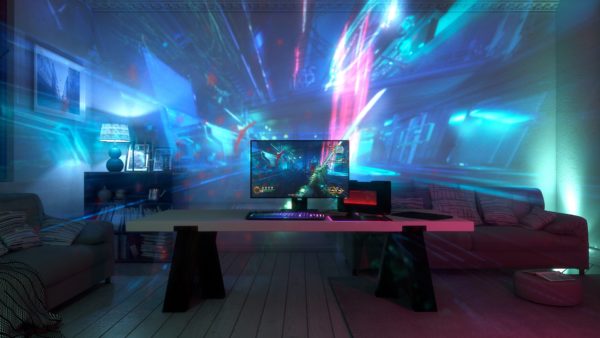 Perhaps what stole the show was the slightly whimsical Project Ariana from gaming gadget company Razer.
Ariana is basically a 4K projector that uses a wide-angle fish-eye lens to broadcast real-time gaming imagery onto an adjacent wall.
The projector feed does not come from old-school HDMI cables – simply point the projector at your screen or television, and the system will figure out what it is looking at and blow it up onto the surface.
Razer claims no tuning is needed to make the picture turn out well either. Its depth-sensing 3D cameras are supposed to be able to scan the wall and account for items around the room – like furniture – and adapt the projected light for these non-flat surfaces.
The system is supposed to work with Razer's Chroma lighting system, which will vary the hues of connected lighting apparatuses to alter the mood of the room based on the gameplay. Good news too if you are a user of Philips Hue lights, since Chroma support is currently being developed for that platform.
Project Ariana promises to offer an immersive gaming experience, without the giddiness and other health hazards associated with virtual reality headsets.
If this sounds very attractive, Razer is saying the projector would possibly be ready by year-end or early next year.