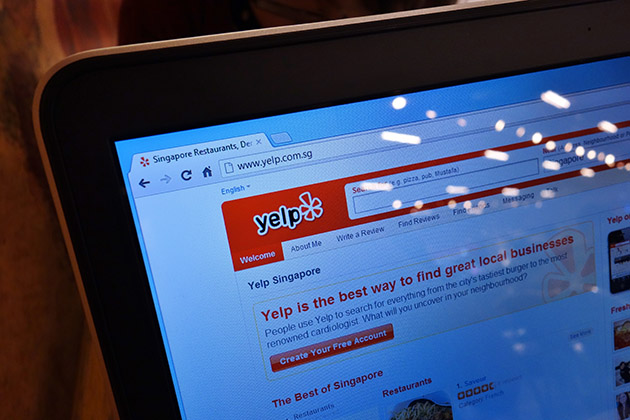 Online community review site Yelp launched a local version of its website on Friday, which lets Singapore residents post reviews of local businesses including restaurants, shopping and entertainment centres, laundry services and even dentists.
On Yelp, users can voice their experiences at a particular business and rate the business along a five-star scale. Each review can be further rated by other users as "useful", "funny", or "cool". They can also add "friends" and stay connected through the site's various smartphone apps.
If this sounds familiar, that's because local website HungryGoWhere – acquired by SingTel earlier this year for S$12 million – already has a somewhat similar service in operation, but with a focus on restaurants and other eateries.
Some features, such as "checking-in" to businesses to earn "Dukedoms", special offers, and virtual badges are also similar to Foursquare's modus operandi.
Miriam Warren, vice president at Yelp, said, "We have no intention of running any existing sites out of business."  She added that eight-year-old Yelp is in fact the one of the pioneers of such review sites.
In the weeks leading up to the launch, Yelp hired local scouts to jump start the writing of reviews. These scouts are paid for by Yelp, but are expected to review businesses honestly.
At the time of writing, the Singapore portal already has more than 7,300 businesses reviewed across all categories.
Warren expects that number to grow quickly, especially with Singapore's high connectedness and smartphone penetration.
Businesses can also claim their own listing on Yelp, and use the tools available to respond to customer reviews and create offers for customers, among others.
37-year-old Daniel Goh, who runs The Good Beer Company and has attracted a cult following with his offering of less common beers, said he will likely hop on to Yelp and tap on what it has to offer.
"We're also listed on HungryGoWhere and I can certainly see the value in a service like Yelp," he said.
Earlier this month, a paper published by two economists at the University of California, Berkeley, found that a half-star difference in the rating of a restaurant on Yelp can mean a significant difference in the number of reservations on a given night.
The study also found that Yelp's calculation of final ratings is not entirely accurate, and the numbers are rounded either up or down. For instance, two businesses can have very close average ratings of 3.74 and 3.76 but Yelp will show the first as 3.5 stars and the second as 4.0 stars.
This could be a problem in an age where anyone can be a critic, as unfair reviews or unethical practices by competing businesses may result in an undeserved rating.
But Yelp claims to have successfully tackled the problem of vandalism through the site's filter system. Questionable reviews such as those attempting to skew a business's rating towards one end will be removed.
Yelp admitted in a blog pot that this may result in some legitimate reviews filtered out, but argued that it's a cost that has to be accepted "to avoid being a lassez-faire review site that people stop using".
All that said, I have friends who swear by Yelp whenever they visit a supported city such as San Francisco, so the site may prove to be an influential force in Singapore's business landscape.
Other Asian cities will have to wait, though. The company currently has no plans to expand beyond Singapore.
Disclaimer: the writer was part of the local scout programme and contributed reviews to Yelp leading up to its launch.