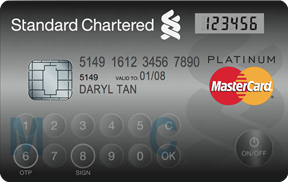 If you've been fretting over the growing number of security tokens that you have to carry for performing online transactions, a solution is on the cards.
MasterCard and Standard Chartered Bank today unveiled Singapore's first payment card with a built in security token powered by MasterCard's Display Card technology.
Made by Swiss security specialist NagraID Security in collaboration with smart-chip maker Gemalto, the MasterCard Display Card looks and works exactly like a regular credit, debit or ATM card.
The only difference is that it features an embedded LCD display and touch-sensitive buttons that let card holders generate a One-Time Password (OTP) to be used as an additional security key in two factor authentication (2FA).
MasterCard says its Display Card can also display other information such as credit balance, reward points and recent transactions in future.
From January next year, all Standard Chartered Online Banking or Breeze Mobile Banking users will use the Standard Chartered security token card as a new personal security device for higher-risk transactions such as payments or transfers above a certain amount, adding third party payees, or changing personal details.
"In Singapore, many customers bank with multiple banks. We brainstormed on ways to make it convenient and yet secure for customers," V. Subba, regional head of retail banking products in Singapore and Southeast Asia at Standard Chartered Bank said in a statement today.
"The question was: instead of sending customers another bulky token, could we replace something which already exists in the customer's wallet? That was when credit, debit and ATM cards, immediately came to mind."
Besides Standard Chartered, MasterCard Display Cards are also issued by other banks such as Turkish Economy Bank, Credit Europe Bank and Bank SinoPac in Taiwan.
MasterCard says Standard Chartered Bank's deployment of Display Cards is the largest to date.
Last year, the government launched a National Authentication Framework (NAF) that promises to make it easy for users and organisations to enjoy secure online transactions using a single token made by Assurity, a wholly-owned subsidiary of the Infocomm Development Authority.
Despite efforts by Assurity to promote usage of its token, only a group of securities trading firms have signed up. The local banks, which are mandated by the Monetary Authority of Singapore to use 2FA, have been issuing their own tokens to customers since 2006.