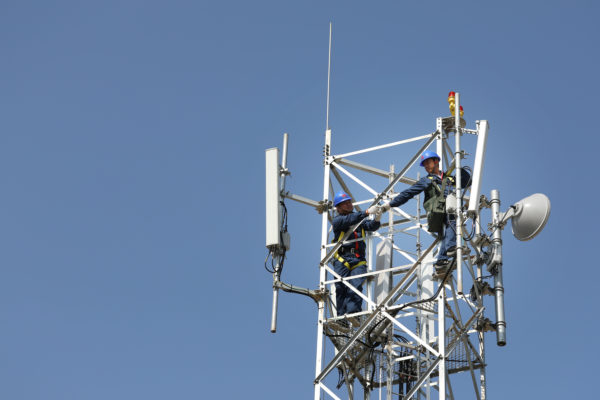 Brought to you by UBM
When StarHub became the first in Singapore to boost its 4G network speeds to 1Gbps in April this year, it reached a milestone that many telecom operators viewed as a step closer to the 5G future.
The commercial offering by StarHub was available only in high-traffic areas in the country, but it signalled its readiness for the future, when speeds in excess of 10Gbps, as well as low latency connections, are expected to be the norm.
Like many telcos around the world, it is readying for the moment, expected sometime in 2020, when the first wave of 5G services come online commercially.
Years in the making, 5G opens up a future that many industry experts admit they cannot easily predict for now.
To be sure, higher download speeds will make video streaming smoother and low-latency connections could allow for remote monitoring and control of otherwise autonomous machines.
One early demo of 5G even had engineers controlling an excavator remotely, making minute adjustments using a link that relayed the instructions almost in real time.
Yet, 5G is unique in that the industry is not frantically looking for a reason for the new technology. There is no search for a killer app to justify rolling out the new networks.
This may have to do with experience. With 3G in the early 2000s, the promise was ubiquitous and fast Internet on the go. However, plagued by costly networks and bulky handsets initially, the technology's proponents took years to convince people this was the quantum leap that was prophesised.
Then came 4G years later, which essentially solved many of 3G's problems, such as slow networks and latency issues. It fulfilled many promises too, allowing users to truly get connected on to the go with most of the services they would expect with Wi-Fi, for example.
With 5G, the lack of similar hype may suit the industry well. It promises upgrades in speeds of up to 10Gbps and low latency connections of 1 millisecond, but most importantly, it sets a path for telcos to modernise their networks for the future.
For example, in a world filled with smart devices, a 5G network has to be able to connect up millions more endpoints, including self-driving cars and temperature sensors.
It has to do so almost in real-time as well – a capability that could potentially open up new applications that today are still on the drawing board.
Plus, ultra-low power Internet of Things (IoT) devices can take advantage of the lower energy needed by 5G to get hooked up. This means new services can be deployed with the data that these new IoT devices bring in.
"A use case can demonstrate just a technology capability while the true potential should be attempted to be understood from large-scale commercial adoption," said Konesh Kochhal, director of industry ecosystem engagements, at Huawei Southern Pacific.
Given the diverse connectivity that 5G supports, the first use cases would be big sports events where it can be used by many people at once, or in surveillance, security, IoT sensors, he predicted.
There will be challenges, as usual, for any new technology. One area that has traditionally been a problem for mobile networks is indoor coverage, especially in dense urban areas where wireless signals are often blocked off and where a large number of users means more bandwidth is needed.
Smart management could be the key here. By making use of unified stacks of hardware, as data centres have done as well, telcos can more costly-effectively deploy their network infrastructure while easily visualising the different components that make it up.
"A more intelligent network requires a more intelligent data plane that can dynamically deliver and execute network functionality and interact directly on its behalf with end-devices and end users," said Marc LeClerc, the vice-president for strategy and marketing at network software vendor NoviFlow.
"5G is going to push the limits of what is achievable in current network architectures," he noted, adding that new technologies such as software-defined networks (SDNs) will provide telcos with fine-grain control while optimising bandwidth and latency.
Indeed, this has been the path for many telcos modernising their networks on the way to rolling out 5G in the next few years. Instead of plonking in new boxes everywhere in their network, they have been proactively renewing the way they deploy and manage their infrastructure.
This makes them ready not just for the next big network upgrade that 5G brings but also future improvements that are likely to come their way. In that way, the arrival of 5G is bringing unprecedented change.
One area that may need an upgrade is the backhaul connectivity that serves to connect up the wireless network to the rest of the world. The higher demands of 5G means this has to be upgraded as well.
"New use cases will demand that backhaul can support low latency, new synchronisation, network slicing and dynamic configuration from external software controllers," said Amie Morgenroth, marketing communications manager at network vendor Collinear.
She said some 5G deployments may even be for fixed, not mobile, broadband, by using the wireless link to compete with traditional home broadband services. "Most likely the initial killer app for 5G is Cost-to-Serve-per-Mbit."
Learn more about the changes that 5G will bring, plus more from the telecommunications industry, at CommunicAsia2018, at Marina Bay Sands from June 26 to 28, 2018.
Part of the refreshed ConnectTechAsia umbrella of events, it brings together thought leaders, decision makers, influencers throughout the ecosystem to network, explore new technologies, share ideas and create valuable opportunities for all.