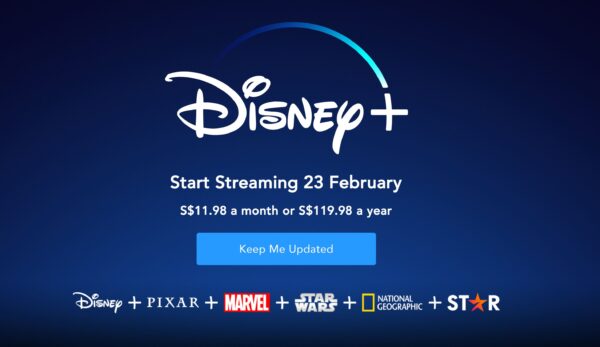 If you've been waiting to watch the much-touted The Mandalorian TV series in Singapore, you can soon sign up for the Disney+ streaming service through StarHub.
The service, which also brings TV and movie titles from Marvel and Disney's children programmes, will be out in Singapore on February 23 for an expected S$11.98 a month.
With its "exclusive" deal with the Walt Disney Company to distribute the streaming service in Singapore, StarHub will offer the Disney+ programmes through its TV+ app, likely with bundled discounts to be unveiled at launch.
The telecom operator told Techgoondu that these subscribers can also log in with the Disney+ app even though they sign up through StarHub. In other words, they don't have to use StarHub's app.
At the same time, subscribers can also sign up with Disney directly and use the same Disney+ app, just like they can download the HBO or Netflix streaming apps.
So, the American entertainment giant will market its streaming services directly to users despite also selling its subscriptions through StarHub, similar to the telco's arrangement with HBO and Hong Kong's TVB.
Once a mainstay on StarHub in its cable TV days, TVB now offers a monthly subscription to use its streaming app and even sells its own set-top boxes to users to view its Cantonese shows.
So, what makes StarHub's Disney+ deal exclusive? It doesn't mean that consumers have to sign up with the telco or be forced to use its app. However, StarHub is likely to be the only telecom operator here to offer Disney+ on its own menu of shows.
While Disney+ is late to the game here, after others such as Netflix, Amazon Prime and Apple TV+ have arrived earlier, it does bring a slate of shows for everyone at home.
Besides Star Wars, Marvel and Disney programmes, Disney+ will also have shows from National Geographic, Pixar and the familiar Star platform that targets Asian viewers.
In all, the new Disney+ streaming service will have more than 500 films and 15,000 episodes of content. These include blockbusters such as Hamilton, Mulan and Avengers: Endgame.
CLARIFICATION at 08/01/2021, 6:35pm: An earlier version of the story questioned if users would have to use StarHub's app to view Disney+ programmes. StarHub has clarified that this isn't the case. The story has been updated to reflect this.