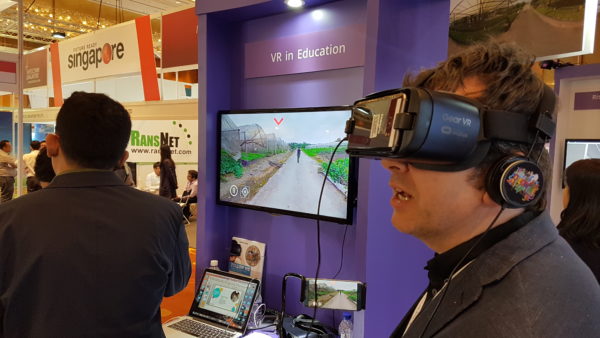 As part of Singapore's Smart Nation push, the country is witnessing new partnerships forged between solution providers using emerging technologies like virtual reality (VR), matched with government agencies and companies that could benefit from them.
Many of these initiatives in training, healthcare and media were on display at CommunicAsia 2017, held in Singapore between May 23 and 25 this year.
The developments fit in with the push towards the use of mixed reality gear in more lucrative industrial applications, as new technologies increasingly deliver functionalities and use cases that older ones could not.
Interestingly, the minds behind some of these innovations can be very Singaporean, but the solutions often have potential to be exported globally. Techgoondu goes hands-on with two of them.
Virtual reality medical training
First up is a virtual reality system built for training medical students in operating room fundamentals, as well as professionals in preparing them for new scenarios based on the latest medical cases.
Such is the versatility of the system, which will be further developed over at least the next 12 months by animation and visual effects firm SideFX Studios, in collaboration with Tan Tock Seng Hospital (TTSH).
Its executive producer T K Ng said the demo on display was developed in just a month for an IMDA showcase last year, while more scenarios will be built in the coming year with the input of subject matter experts from TTSH.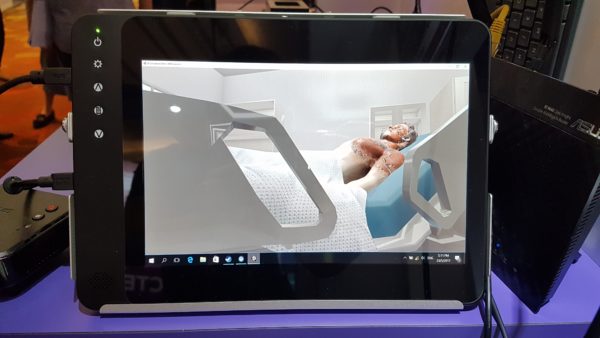 The graphical environment and interface of the solution is built on the popular Unity game engine, which would run on your typical x86 machine that uses Windows.
The solution is thus hardware agnostic, and everything being used is based on off-the-shelf hardware. Ng is going with HTC Vive for now, however, because it offers better resolution and sensitivity when compared to what Oculus offered at the moment.
In my hands on with the system, I was wowed by the smoothness and light effects on the imagery. They frankly looked better than some of the in-game objects developed by reputable game studios.
This is testament to the talent of Ng, a National University of Singapore computer science graduate with experience in the visual effects industry, and his very local team of five recent Nanyang Polytechnic digital and visual effects graduates.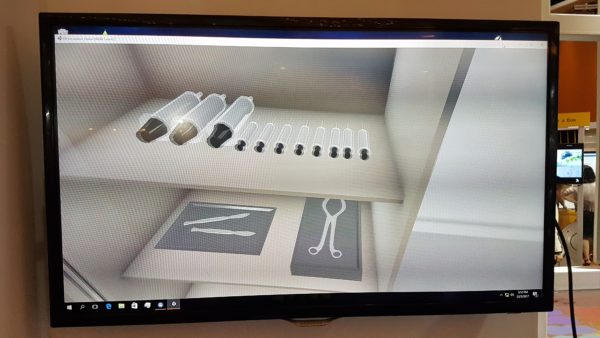 The user is placed in an operating room with a patient on the bed. Clicking the button on the rear of the HTC Vive controller will create a laser pointer that allows you to navigate to where the beam ends.
Pressing the button on the front, on the other hand, allows one to interact with the objects around you, be it a syringe, or the heart, brain or rib cage that you have pulled out of the patient in 3D.
The attention to detail and malleability of the objects in the operating room bested the demos I saw at Dell EMC World earlier.
If I could nitpick, it would be that the HTC Vive controller is not precise enough to be a good training tool. It can be difficult to grab an object unless if you are very precise with the handles, but the controller cannot detect movements accurately enough to do so elegantly.
The controller also offered no tactility and feedback. Since we are talking about human lives here, it would have been better if the user could hold an actual scalpel and cut a heart mockup with graphical details laid over it, suggesting the value of augmented reality devices in these interactions.
Ng mentions the firm is exploring the use of mixed reality gloves to enhance the realism of these interactions, which is a good start thanks to the hardware agnostic design of his platform.
He quipped that he is even backing a few of these gloves on Kickstarter to see which ones will pan out.
Mixed reality social studies class
Virtual and mixed reality technologies are good not only for professionals, but even schoolgoing Primary School children. At least, that was what a recent pilot with 400 Primary Four and Five students across five schools seemed to suggest.
The collaboration between local independent production house Beach House Studios and the Ministry of Education (MOE) over the past four months led to the creation of 3 hour-long mixed reality lessons.
They cover topics like farming and historical buildings in Singapore, among others, with more to come.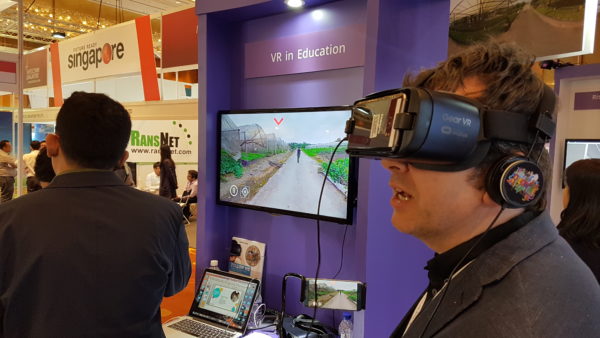 These lessons incorporate multiple short 360-degree videos and summary capsules delivered through Samsung Galaxy S7 and Gear VR headsets, interspersed with activities and worksheets for the students to complete in between videos.
Since the students are mostly between 9 and 11, the intent is to minimise prolonged exposure to virtual reality content (known to cause headaches) while delivering a good learning experience, according to Beach House's head of business and content development Jim Ribbans.
The content is produced for the Samsung Gear platform because it offered the best-in-class viewing angles and resolution without sacrificing the mobility needed to deploying the lessons in a class of 40, said Ribbans.
Ribbans added MOE has been incredibly supportive throughout the entire process, working closely with the team to refine the scripts and content to ensure it stayed in line with the syllabus.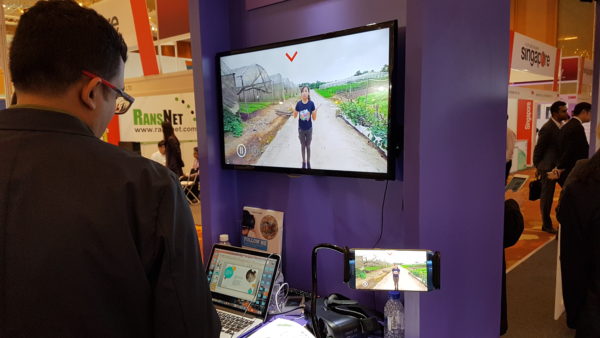 During my time on the headset, the clarity and quality of display on the Samsung Gear VR was as good as I last tried it. The videos were well shot, offering majestic, 360-degree views of the hydroponics plant in Lim Chu Kang that I am free to look around by moving my head.
The scripting is also focused and lesson delivery by the presenter clear, all expected of a seasoned production house that has made documentaries for Changi Airport and River Safari, among others.
Sadly, the experience remains bogged down by the same issue of having much of its weight rest on my nose. This was even after I attempted to tighten the straps over my skull as tightly as I could.
Also, the experience remains relatively linear, since the entire experience can be distilled into what are basically videos and summaries delivered through a virtual reality headset insteadd of a projector.
Ribbans acknowledged there are other affordances within the platform like hotspots and movement detection.
He highlighted, however, that it would be difficult to deliver that in a class of 40 10-year-olds within the confines of a class, all while maintaining a clear lesson objective.
Beach House Studios is open to having more interactivity however, and may incorporate them in a future project with older kids, as well as when they bring the concept overseas.
"Singapore is well known around the world for their education outcomes in reading, mathematics and science. Having their (MOE's) endorsement will help us build a model that we could go overseas with and recommend to potential clients with confidence," Ribbans said.
Beginning of a revolution
The presence of local talents able to create rich content appear to be keeping the promise of transforming the economy here into a skills-based one alive.
What was also clear is that these applications are increasingly real-world and focused on solving real problems, and less gimmicks and proofs-of-concept of the technology platforms.
These developments expose more clearly than ever the limitations of virtual reality hardware, restricting the creativity of creators discovering new ways to learn and work while spawning entire new industries in the process.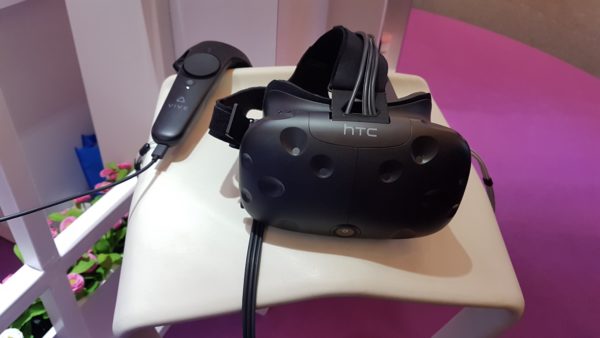 Hardware makers should no longer have reason to fret their investments into virtual, augmented and mixed reality hardware might see no returns, as it is clear now that the tides are turning.
The requirements for better hardware have not changed much – lighter, higher visual quality, more comfortable. I wish I could wear these things without feeling a weight pressing somewhere, and they could correct my short sightedness when I don them so I see more than a blurry mess.
It is my hope that mixed reality gear could see a transformation in the next five years, much like how smartphones have changed so much in the same period.