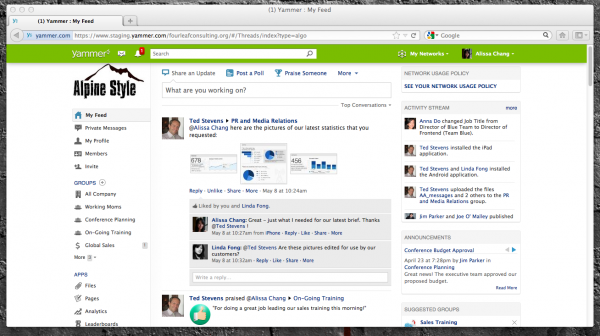 About 52 per cent of companies in Singapore already have a corporate social network in place, while another 23 per cent plan to roll out one in the next 18 months, according to a survey released today by research firm IDC.
These walled-off services, an alternative to the free-for-all public services like Facebook or Twitter, are ranked so high in the priorities of organisations in Asia-Pacific that those who have embarked on rolling them out see them as more important than deploying core networks or business intelligence, according to the study sponsored by Microsoft.
The responses come from 352 decision makers in medium and large organisations in eight Asian countries, including Singapore, Australia and South Korea.
The numbers reflect the changing priorities of IT leaders, as they seek to attract and retain staff by offering a flatter hierarchy, as well as to keep abreast of trends such as the consumerisation of IT and bring-your-own (BYO) devices in the workplace, said Microsoft executives today.
The company provides tools such as Lync, which offers unified communications, and Yammer, a social networking service that is like a corporate version of Facebook.
Yet, despite the apparent benefits of enterprise social tools, the usual resistance exists, warned IDC Asia-Pacific's director for emerging technology research, Claus Mortensen. There is an "inevitability" of companies moving to social enterprise tools, as users demand it, he pointed out, but the usual worries such as security will delay or prevent some rollouts.
A bigger problem is perhaps measuring returns on investment. These usually are not in the shape of cost savings, but "softer" though important factors such as improved staff interactivity and making an organisation more appealing to employees who prefer a modern workplace, said Mortensen to reporters today.
Perhaps even more challenging, the experts at the event did not point out today, was how users might just bypass corporate networks if they already have most of their contacts – including external ones – on their existing networks, such as LinkedIn, Facebook or Google.
Besides being more familiar to users and often faster to market with new features, these public services also appeal to users to link, rather than separate, their work and play.