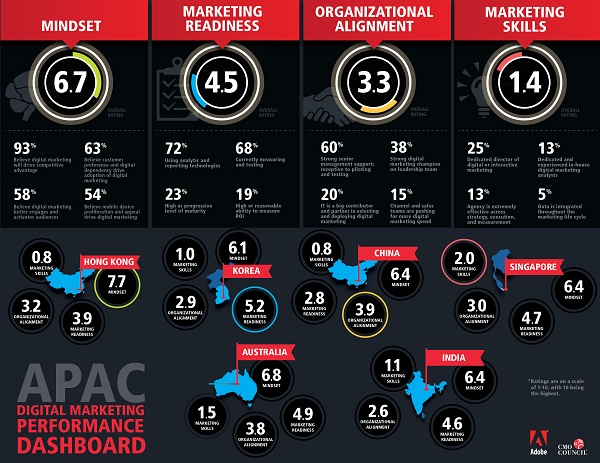 Marketing skills capability scored only 1.4 out of a scale of 10, whilst mindset that digital marketing is important scored 6.7. The result? A talent crunch, according to the CMO Council.
Digital marketing in Asia Pacific is facing a serious talent crunch.
This was one of the key insights drawn from the "APAC Digital Marketing Performance Dashboard", a research report done by the CMO Council, a worldwide professional association of senior marketeers.
The research, which was conducted over Q2 and Q3 of 2012, spanned both qualitative one-on-one interviews and an online survey that 295 Asia Pacific respondents completed. 23 brand leaders in Asia Pacific from companies like Toyota, CitiGroup and Nokia participated in the interviews.
According to the research, which was sponsored by software company Adobe, one key challenge was getting the right digital talent. From support staff to execute digital, mobile and social campaigns, to senior marketeers who direct digital strategy, digital marketing talent is in short supply in the region.
49 percent of respondents highlighted that they had difficulty finding the right talent to build their digital teams. Another key issue with relation to digital teams was a lack of hiring budget to bring on senior talent (38 percent).
Advances in a raft of related digital technologies in recent years — social media analytics, search engine optimization and mobile applications are some examples — have driven marketeers to evolve really quickly.
"Five years ago, I could have shouted in a room of marketeers about multivariate testing and I would have gotten blank stares," said Liz Miller, Vice President of Global Programs and Operations, CMO Council, who was at the Adobe media event today to present the findings.
"Now, everybody knows what I am talking about when I mention jargon like quants," she said. The main problem is finding the right talent who can navigate and surf the burgeoning digital marketing wave.
Beyond looking at poaching talent from rival organizations (always popular), Liz suggested that organizations can also look to hire from start-ups, who tend to be more innovative when it comes to coming up with cutting-edge solutions.
The Digital Wave
The world is moving towards a confluence where big data, social media and mobility trends will collide in a digital tsunami, and those who can best ride these trends will thrive.
Adobe, best known for their multimedia content tools — Photoshop, flash and PDF are synonymous with the company — branched out into social media analytics with their US$1.8 billion acquisition of Omniture about three years back.
In the digital analytics space alone, you see big software behemoths like Adobe and Salesforce (with their acquisition of Radian Six) jockey with local Singapore headquartered companies like JamiQ and Thoughtbuzz. Coming from the marketing side of things are consumer research agencies like AC Nielson and SentiaMedia (which owns locally grown Brandtology, which was acquired early this year).
And of course, all the big creative/PR agencies are trying to develop their own analytic tools.
Mark Phibbs, senior director for global channel marketing at Adobe, doesn't think this is a good idea. "You don't want those that sell you ads to do the measurement. It's like getting the fox to guard the henhouse," he said.
Having worked in both a social media software company (JamiQ) and a PR agency (GolinHarris) using various tools and consulting on all kinds of digital projects for clients, I will add my own anecdotal insights to this topic.
One, many of the briefs I saw in the last year came with a digital component. It's like more or less a given, and the brief with only a pure creative/PR component is the exception rather than the rule. Digital is here to stay folks, and there is no running away from this.
Second, it's still a wild, wild west out there for digital, with clients that range the entire gamut, from the clueless (more of these) to the sophisticated (less of these), at least for now. In my experience, those who are more sophisticated tend to have in-house digital folks.
No surprise then that the CMO Council's report show that sane marketeers want more in-house digital skills as the industry matures.