Internet users are willing to wait just a mere two seconds for an online video to load before losing interest and moving on to something else, a recent study by Internet content delivery network Akamai has found.
For each second more that a video takes to load, the "abandonment rate" goes up 5.8 per cent, it revealed earlier this week.
The study also found that viewers are more impatient when waiting for short videos, such as news clips, than longer videos such as TV episodes or movies.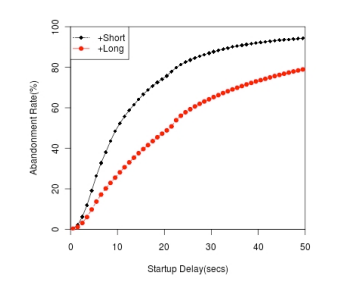 (Viewers are more patient when loading longer videos, such as movies. Source: Akamai Technologies)
The quality of the Internet connection can also be a reason why people give up waiting, according to the survey released early this week. The company had analysed how 6.7 million Internet users around the world watched online videos some 23 million times.
Mobile phone users are the most patient while viewers on fibre connections are the least so, it found. Either way, if users don't manage to load a video or are interrupted while watching a clip, they are less likely to return to the site to watch more videos.
The study was conducted by Ramesh Sitaraman, an Akamai fellow and professor of computer science at the University of Massachusetts-Amherst and S Shunmuga Krishnan, a senior software engineer at Akamai. The report can be viewed in full here.