Prices of fibre broadband services in Singapore are back to their crazy lows at the ongoing Sitex show, as service providers engage in a frantic grab for customers at the start of the holiday season.
M1 once again led the battle for the cheapest 100Mbps service, with its low S$39-a-month subscription that has been a feature of the country's quarterly tech bazaars since last year.
Besides being cheaper than some old broadband plans, the service comes with a mobile broadband data service, as well as home voice calls. The "orange" operator is also waiving installation fees.
Even its 200Mbps service is aimed squarely at traditional rivals SingTel and StarHub. The high speeds on offer cost S$49, close to what SingTel and StarHub are asking for their slower 150Mbps offerings.
The competition is keen because 95 per cent of the country is now connected to the fibre network, with all homes to be hooked up by next year.
Some 220,000 households have signed up since the first commercial services were available about two years ago, and about a million more could be looking to upgrade from traditional broadband plans.
For telcos, shows such as Sitex are the perfect opportunity to lock in users for two years. Even if they do not make much from monthly subscription fees, telcos such as M1 are expected to upsell other offerings such as mobile services to these customers in future.
Indeed, M1 has not been shy to show off how well its service has done, in the latest user-submitted tests published by the infocomm regulator. In charts showing download speeds from overseas, its cheaper services have not fared worse than its bigger red and green rivals.
The move speaks of a maturing market, where some users will forego freebies like laptops (paid for through inflated monthly subscriptions) or advertised top speeds and go for measured real-world performance (read our commentary on fibre broadband quality).
Indeed, that seems to be what two smaller players – MyRepublic and Viewqwest – have been banking on. So confident are these providers that they are taking the unprecedented step of showing their network traffic statistics to users who bother looking them up.
And without lucrative bundles with pay-TV or mobile services, they are relying on selling high-end options that gamers and other heavy users increasingly prefer.
Since the two upstarts burst on the home fibre broadband scene last year, they have led the way with gaming plans that offer low latency connections to gaming servers overseas, as well as VPN (virtual private networking) offerings that let users connect to United States-only TV services like Netflix.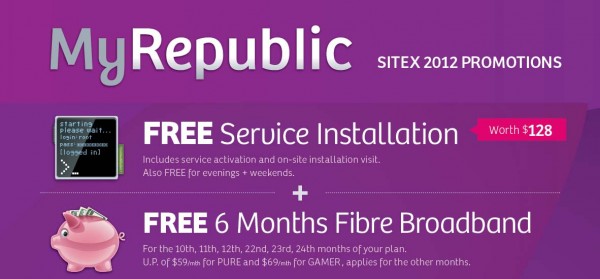 (source: MyRepublic Sitex brochure)
For example, MyRepublic's 100Mbps service costs S$59 – more than the Big Three players – but it promises better quality connections for video streaming and video chats.
Its more advanced "gamer" plan, costing S$69 for a 150Mbps service, also comes with what it calls optimised routing to gaming servers to avoid the dreaded lag or stuttering in online games. At Sitex, the company is offering six more months of free subscription, if users commit to a two-year contract.
Fellow challenger Viewqwest, too, has been aggressive with its high-end plans. Its Fibernet Raptor 200, for example, goes for S$69.90 a month at Sitex and provides speed bursts of up to 300Mbps, should users ever use up the entire 200Mbps.
Share with us your broadband buying experience and download the Sitex fibre broadband brochures here.